If you have a desire to achieve a stronger, healthier body, our elite trainers will give you the guidance you need to achieve your fitness goals quickly and efficiently.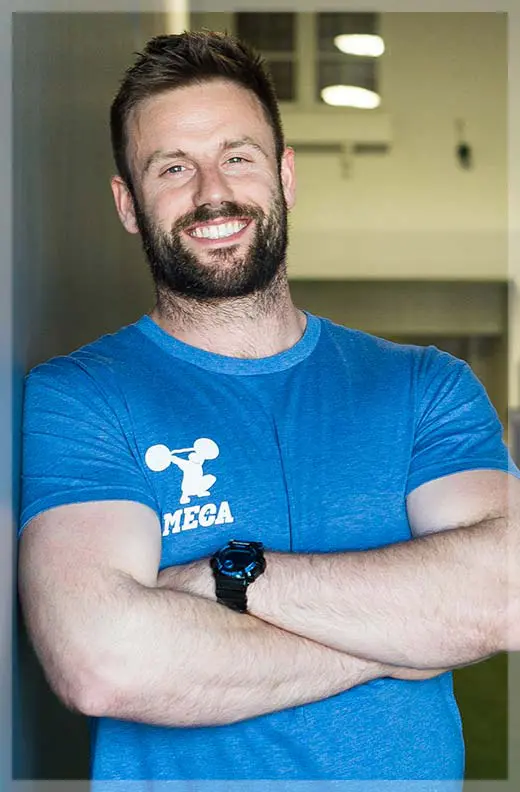 DAVID LAWRENCE, Head Strength Coach, Novi
David is one of the premier and most widely recognized strength and conditioning coaches in the United States. He has personally trained literally hundreds of professional athletes in over 40 sports, including Nick Bellore of the Detroit Lions, Aaron Palushaj of the Philadelphia Flyers, and Super Bowl Champions Frank Zombo of the Kansas City Chiefs and Haloti Ngata of the Philadelphia Eagles. David's passion and hands-on coaching ensures results, David sets the bar and brings that drive to the team at MECA, the premiere personal training and sports performance facility in Michigan.
Founder of Michigan Elite Conditioning for Athletes (MECA)
Former Head Strength and Conditioning Coach, Concordia University Ann Arbor
National Team Conditioning Coach, Guyana Women's National Football Team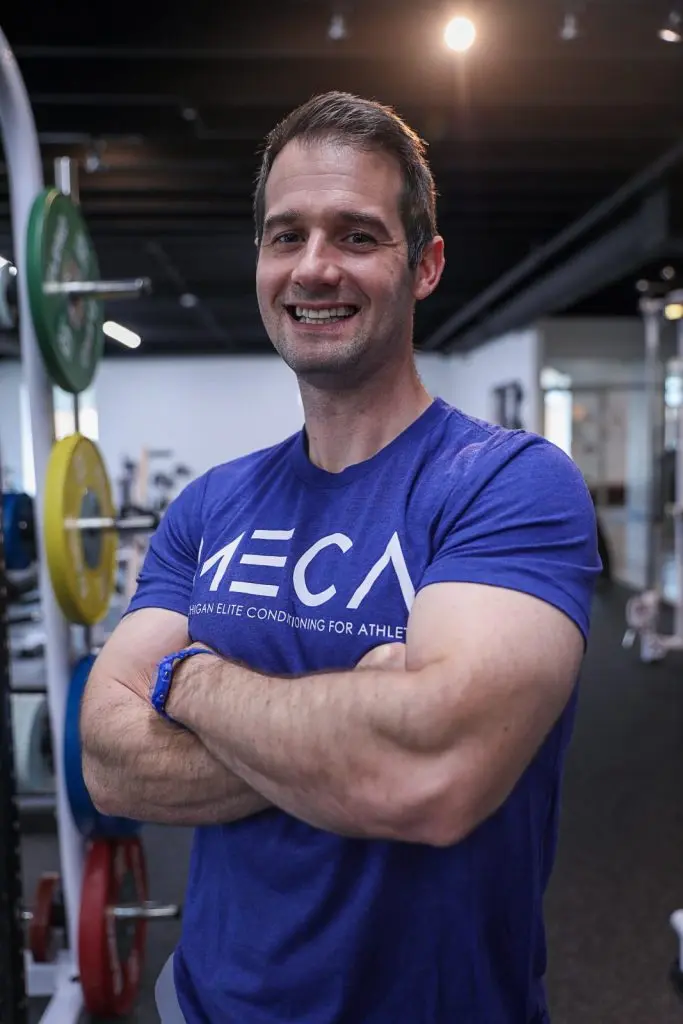 BOBBY, Head Strength Coach, Grand Rapids
Bobby, a devoted husband, and father hailing from Lowell, MI, brings over 20 years of experience in the field of strength coaching. He pursued his education at CMU, where he formed a strong bond with Dave Lawrence, sharing a mutual passion for strength and conditioning. Throughout his career, Bobby has trained athletes across more than 10 countries and has been successfully running his own business since 2016. 
During his leisure time, Bobby cherishes moments spent with his family, embarks on travels, explores his culinary skills through cooking, and indulges in well-deserved relaxation.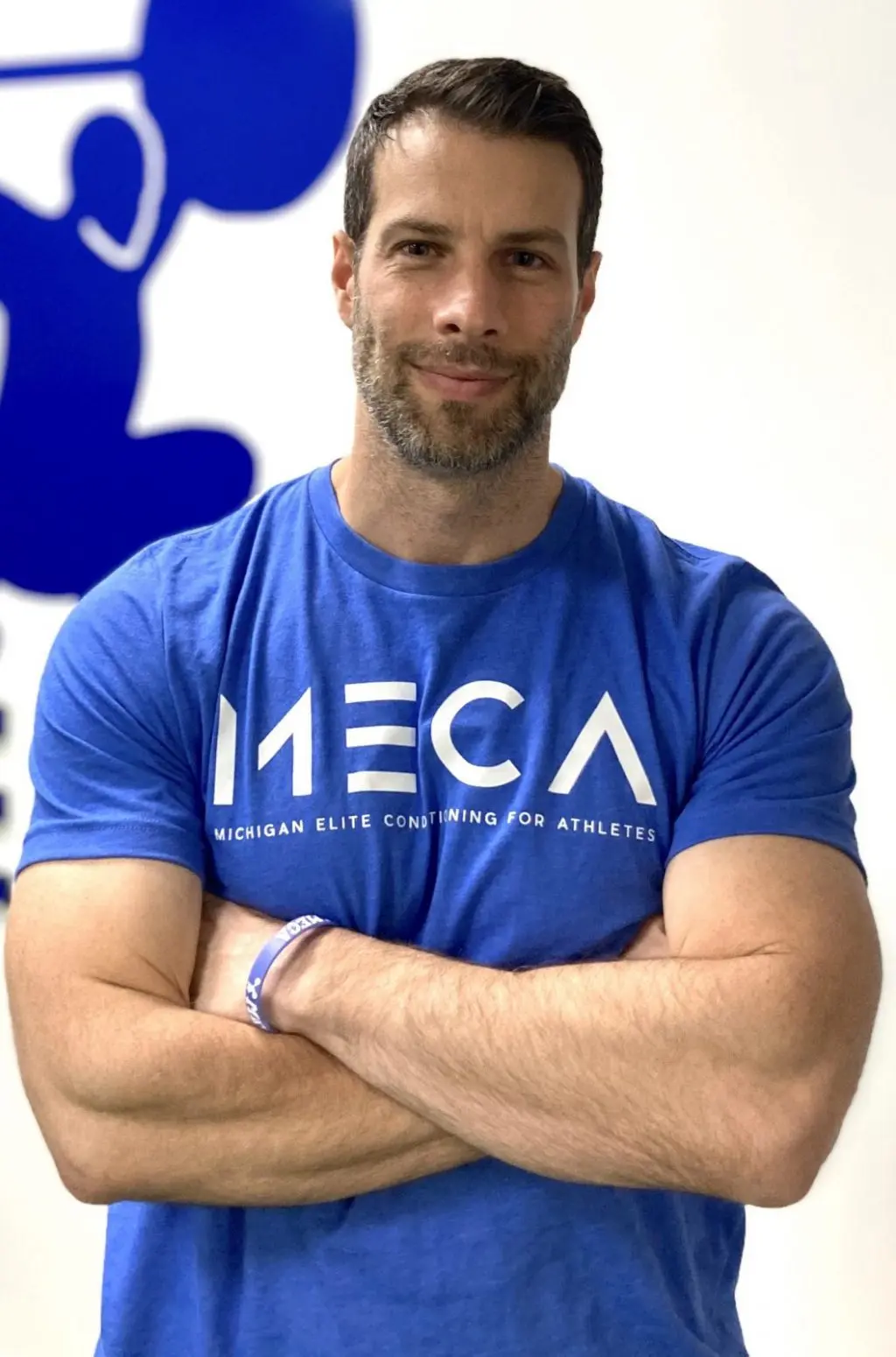 DAVID H, Director of Employee Development, Chicago
David Hollinger is Director of Employee Development and owner of MECA Chicago-North Shore. A nationally certified strength coach, he experienced first-hand what it's like to need high quality, knowledgeable strength coaching after suffering a shoulder injury as a college baseball player. The injury put an early end to his athletic career, leading him to develop a
passion for athletic development.
David is a highly sought after sports performance specialist and has trained athletes from around the country. Those athletes have gone on to compete in 21 different sports at the Olympic, collegiate, and professional levels, including the MLB, NHL, AHL, NFL, UFL and NBA. He attended Hofstra University and studied exercise science, working with some of the
industry's leading strength coaches upon graduation.
David holds many certifications and has become an expert in power development, improving throwing velocity, sprinting speed, body composition, corrective exercise prescription, and reducing injury potential.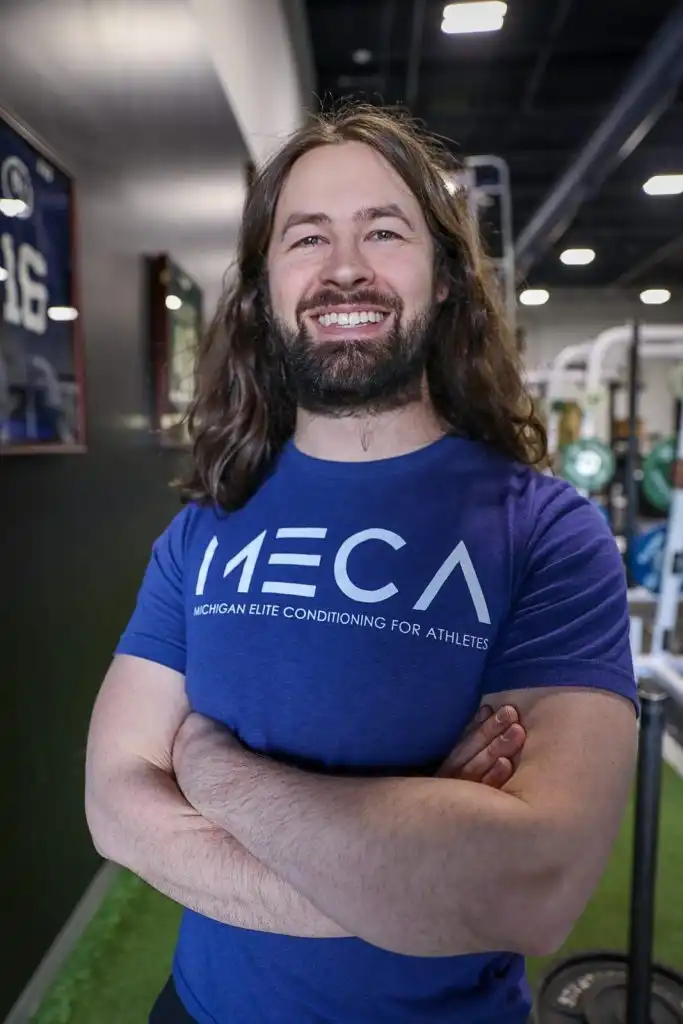 MATT, Head Strength Coach, Novi
Matt joined the MECA team in 2014, and is an acting owner and operator of the business in our Novi location.  Matt is an incredible coach who made the transition into coaching after graduating from Western Michigan University with a degree in Accounting.  Matt determined the life of spreadsheets and numbers wasn't his long term future- and linked up with owner David Lawrence to join the MECA team.  Matt is one of the most detailed coaches on staff- and the results he produces speak for themselves.  Matt is a very regimented coach who believes in sticking to the basics and truthfully loves to teach his clients how to train to perfection, while living the lifestyle as well.  Matt is an injury/rehab specialist due to the detail oriented nature of his work- though loves working with clients of all types, especially athletes looking to make their next season their best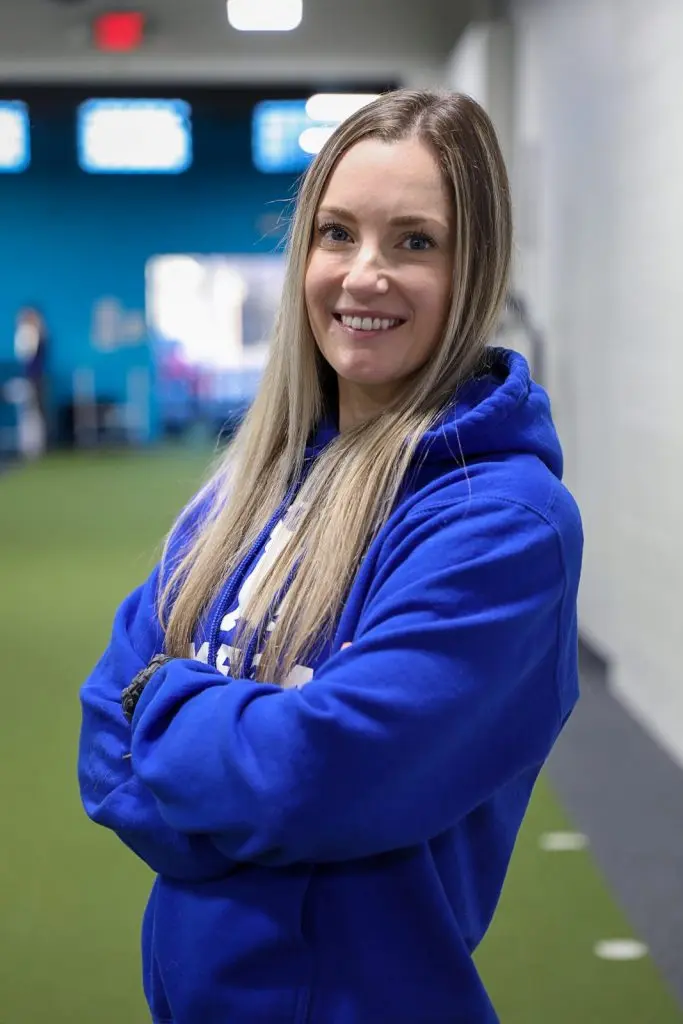 LEANNE, Head Strength Coach, Royal Oak
Leanne joins MECA with an extensive background.  Growing up as an elite gymnast and transitioning into a competitive Cross Fitter, she began her fitness journey at a young age. After graduating from College with a Bachelors in Business Management, Leanne spent many years developing her skill set to become the Operational Manager of her family owned franchised car dealerships.  After gaining experience managing the dealerships, she decided to go into a new direction of co-owning her own Sports Performance and CrossFit facility in Canada.  Leanne had the opportunity to train Pro Athletes and general population clients for many years.  After years of operating and coaching Leanne decided to diversify herself and take a new endeavor in the Functional & Integrative Medical Clinic setting in Michigan.  After years of expanding her experience in the medical field, Leanne sought out an opportunity to get back into a position she was driven and passionate about.  With Leanne's immense background in business, coaching, nutrition, health and wellness she provides a well-defined skill set to assist and help clients reach their goals.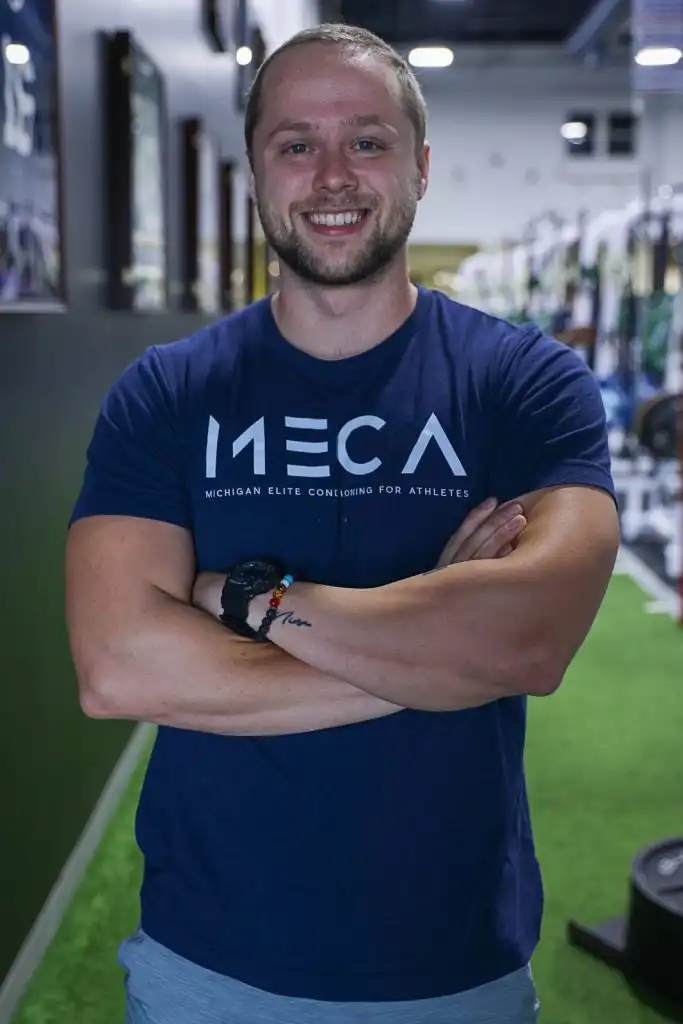 JARED, Head Strength Coach, Novi
Because he has experienced both inactive and active periods in his life, including track, football, baseball, and boxing, Jared can relate to a wide range of clientele. He can make a workout challenging and fun at the same time, which is helpful for those clients who may approach working with a personal trainer with some apprehension because of weight or other matters. Jared's goal is to encourage clients toward a healthy lifestyle, beginning from where they are right now.
Assistant Strength Coach at MECA
Certified Poliquin Level I Personal Trainer
Holds a Bachelor of Science in Sports Performance and Fitness Entrepreneurship
Kilo ASPD level 1 & Kilo ASPD level 2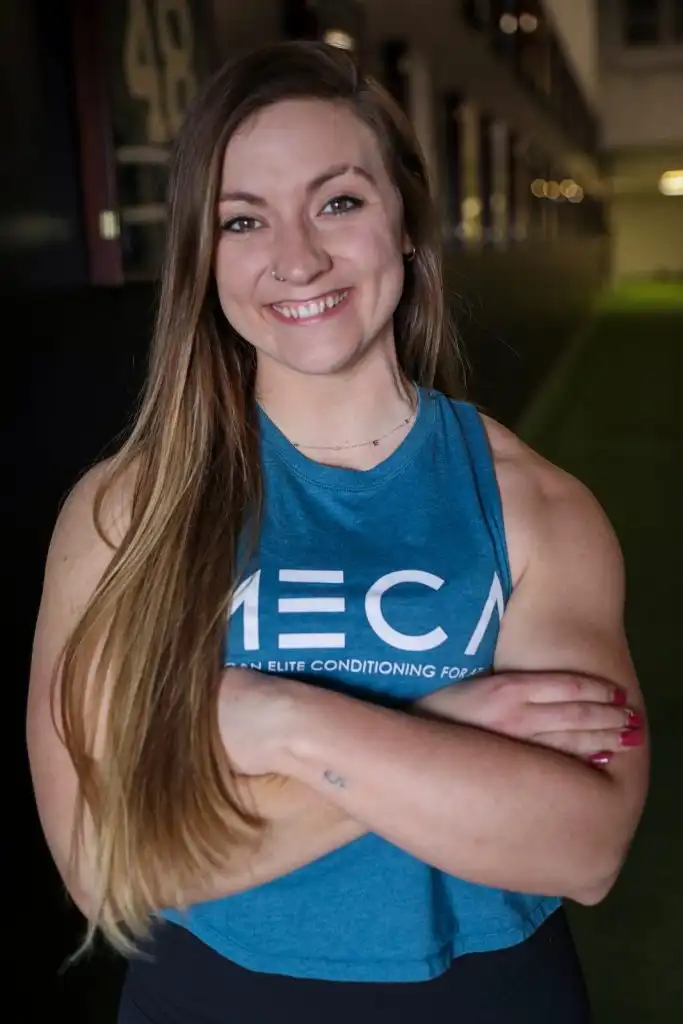 LIZ, Head Strength Coach, Novi
Liz Lucas has been with MECA since 2017. Liz changed her career path in college from Business to Sports Performance after finding a love for strength training through competitive Olympic Weightlifting and went on to hold state records in Michigan and Florida. She has a Bachelors of Science in Sports Performance from Eastern Michigan University. Liz has attended many educational conferences and seminars over the years to learn how to best help athletes improve their performance in their sports through strength training. 
She is most fulfilled when working with athletes who are committed to bettering themselves and taking their game to the next level.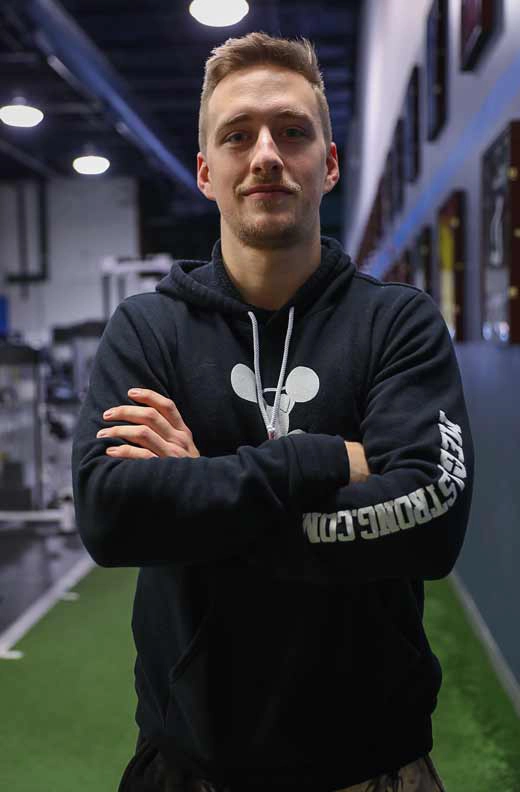 MITCHELL, Head Strength Coach, NOVI
Mitch joined the MECA team after attending Central Michigan University for Exercise Science, and accumulating great experience in the training field from industry leaders.  Mitch is invested in the training process due to overcoming struggles with mental health and learning the power of self discipline and emotional intelligence as a byproduct of the hard work put in the weightroom.   Mitch believes the first step in having good mental health is through improving your physical health, as MItch loves to work with all clients regardless of age or ability.  Mitch is an injury/rehab specialist, and enjoys the intricacies of working through tough problems and finding resolution to give his clients well deserved relief and results. If you are looking to make a real change in your life- ask for Mitch.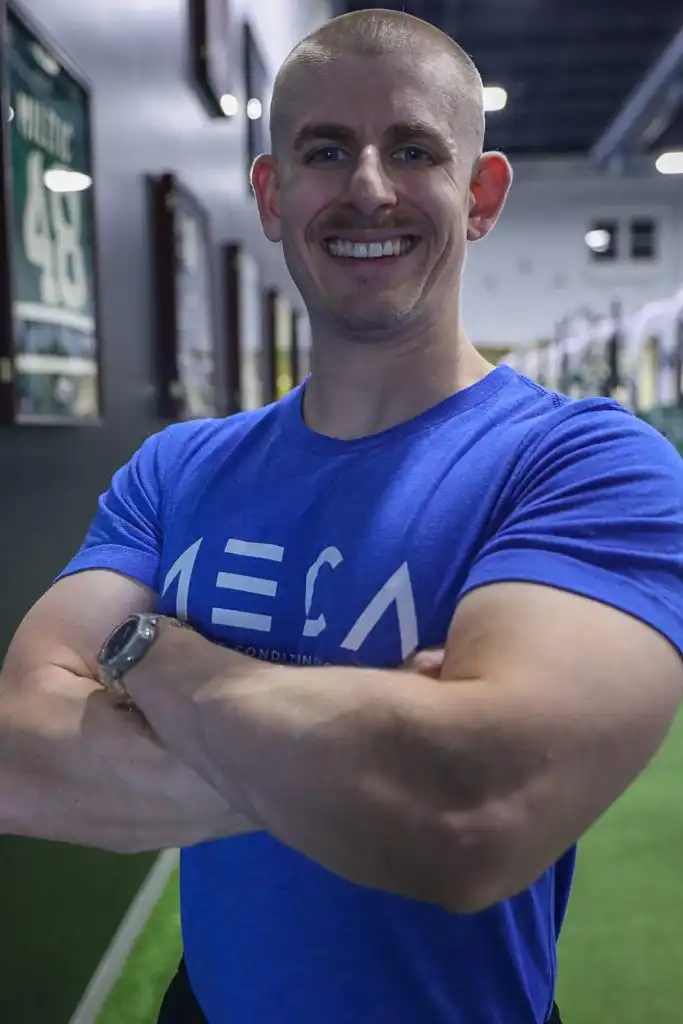 EVAN, Head Strength Coach, Royal Oak
Evan has a diverse background of both strength training, personal training and nutrition certifications that guides him to provide an exceptional training stimulus- regardless of goal or client. Evan loves educating others into learning more about what made Evan fall in love with training in the first place. Regardless of if you are struggling physically, emotionally or mentally, Evan wants to be the hand to help pull you through to the bright side of your goals.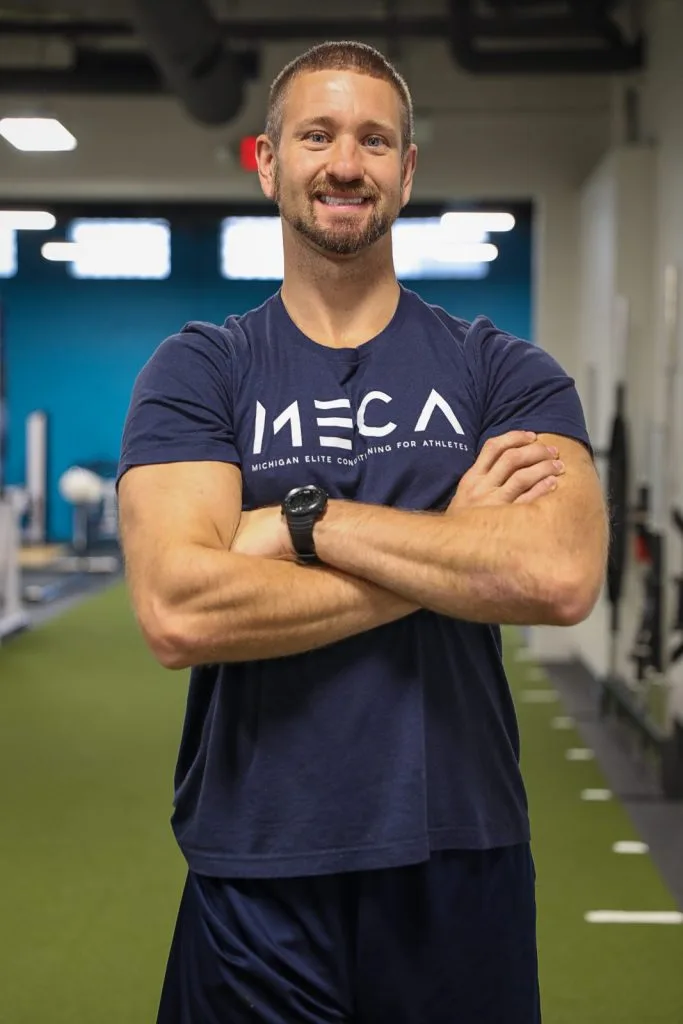 JOHN, Head Strength Coach, Royal Oak
The importance of weight training was ingrained early on in John's high school athletic career. Every coach said he needed to get bigger and stronger to play in college. John took every weight training and conditioning class offered by his high school, including an independent study in Strength and Conditioning. John has since graduated and added 100lbs to his frame. He has obtained his Bachelor's and Master's Degree from Central Michigan University. John used his education early on to improve the Central Michigan Men's Volleyball Program and has worked with many high schools, colleges, and professional athletes since. John has been a strength coach for Central Michigan University, Northwood University, and the Saginaw Spirit Hockey Club. He has also coached high school and AAU Volleyball at high levels. John's dedication to his client's success is paramount to his coaching success.
Intern and Graduate Assistant for Central Michigan Strength and Conditioning
Taught Weight Training and Conditioning for Central Michigan University
Assistant Strength Coach for Northwood University
Powerlifting Team Coach for Northwood University
Head Strength Coach Saginaw Spirit Hockey Club
Director of Personal Training for Mountain Town Fitness
Holds a Bachelor's Degree and Master's Degree from Central Michigan University
CSCS*D
USAW Level 1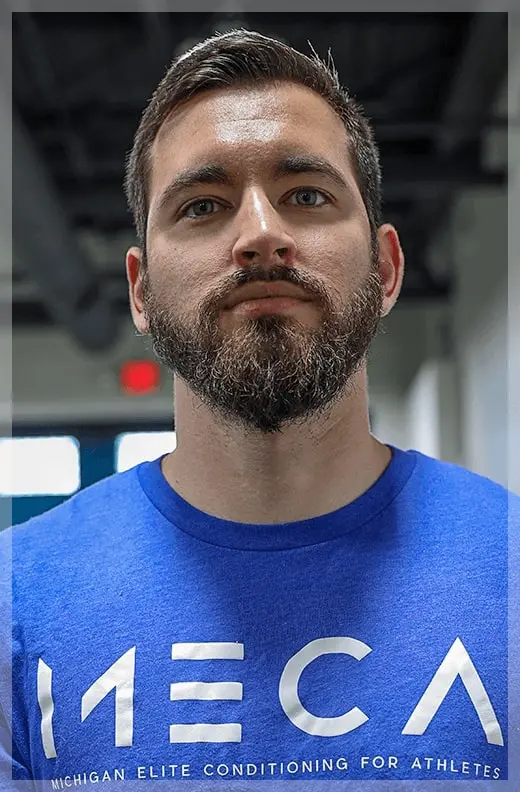 Alex, Head Strength Coach, Royal Oak
Alex's passion with strength and condition started throughout college while training for football and working multiple internships at gyms. After football and school Alex became a strength coach with the intent to help athletes and lifestyle clients gain strength and confidence for their respected sports and life's. Alex has helped people from all backgrounds achieve their goals from weight loss to gaining strength and speed for sports!
MICHAEL, Coach, Royal Oak
Michael Affer graduated from Central Michigan University with a BSc in Exercise Science in 2023. His five years at CMU were marked by active participation in numerous training and coaching roles, as well as two internships and a part-time job.
Michael spent the whole summer of his first internship with CMU Athletics, working closely with the CMU Football Strength & Conditioning department. This expertise enabled him to make significant contributions to the Division I football team's preparation, including strength and conditioning, sports nutrition, partnering with Athletic Trainers on sports-related injuries, and more.
He began a multi-semester internship as a Personal Trainer and Group Fitness Instructor. In this role, Michael counseled students one-on-one and led fitness classes. His dedication to physical fitness extended to his part-time job at Evolution Fitness and Training, a well-known Mount Pleasant gym. He thrived as a Sales Representative there, supervising the front desk, managing product sales, cultivating client relations, and assuring the seamless operation of the gym.
Michael has been on a personal fitness adventure from the age of 15, a journey that has become his passion and a source of enormous happiness. His commitment led him to enter his first physique competition in 2019 when he took first place in the Men's Classic Physique Novice category. This accomplishment demonstrates his unwavering dedication to excellence in the field of exercise science and fitness.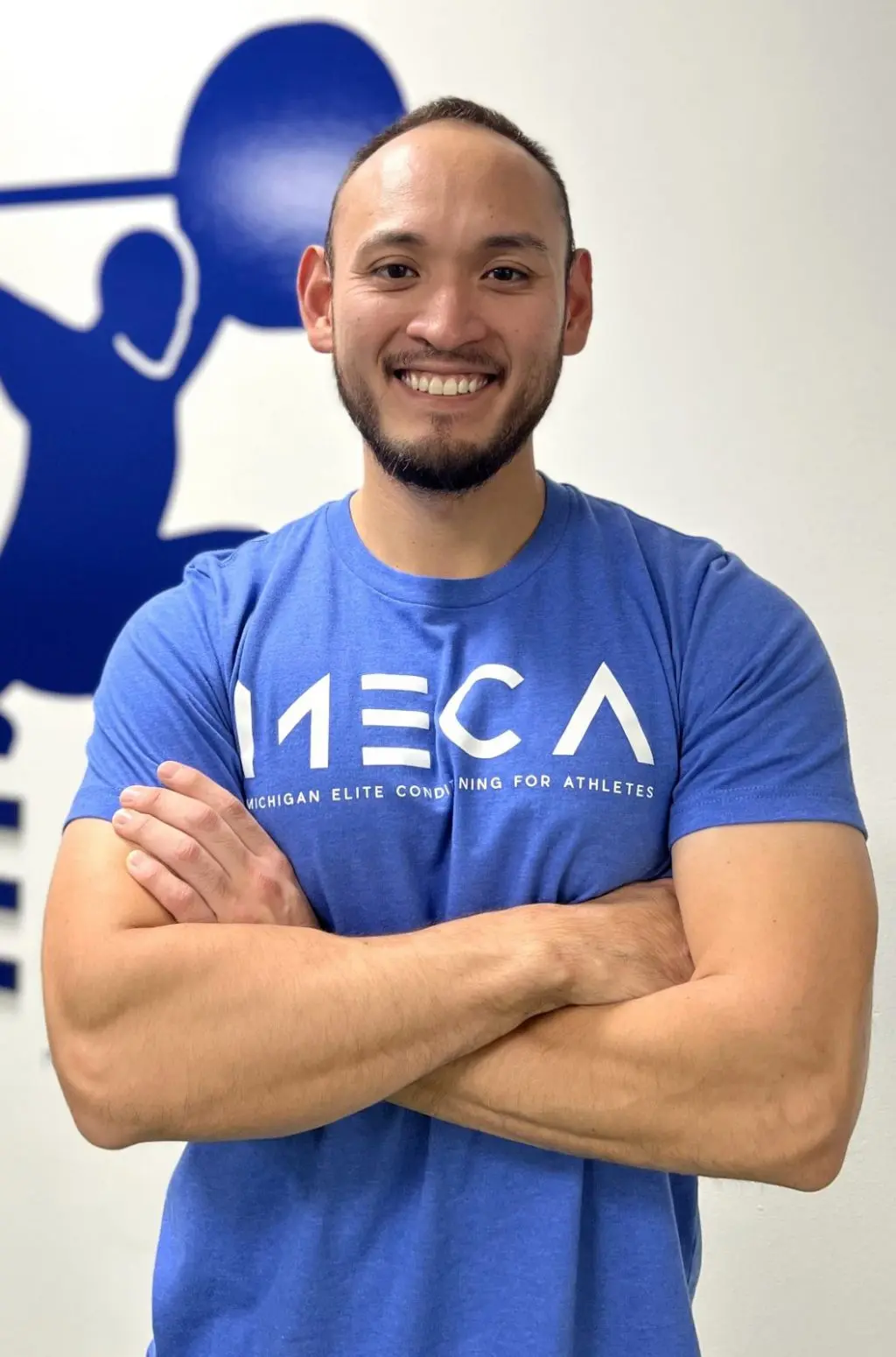 JAMES, Head Strength Coach, Chicago
James is from Niles, Illinois, where he grew up playing both baseball and football at Niles West High School. Toward the end of his high school career, he experienced a lower back injury that ended his athletic career. James then became highly interested in sports performance, injury rehabilitation, and improving performance in other athletes.
During college at Eastern Illinois University, James had the opportunity to coach youth football for the Chicago Bears Youth Football camp for three summers, helping many young athletes develop sport-specific skills, as well as balance and coordination.
James earned a Bachelor of Science in kinesiology with a concentration in exercise science. After graduating, he interned with the strength and conditioning coach from his high school alma mater, training and working with various sports teams, including football, baseball, basketball, track and volleyball.
James aims to help MECA clients prevent injuries, achieve their goals, and bring out the full potential in each individual.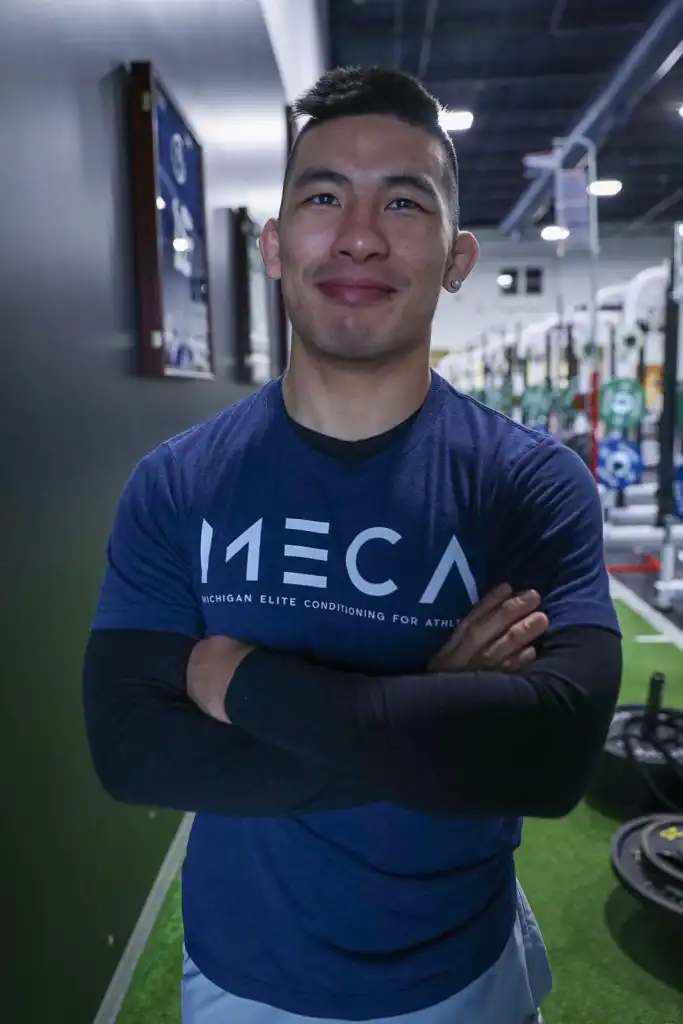 ANTHONY, Senior Strength Coach, Novi
Anthony found strength training through his love for competition in sports such as wrestling, Brazilian Jiu-Jitsu, Muay Thai and MMA.  Anthony loves to inspire others to fall in love with the training process the same way he has, and enjoys investing in his education to continue to stay on top of new training techniques and opportunities to help his clients see better results.  Anthony enjoys working with all clients, regardless of training age or athleticism.  Reach out to MECA Novi to work with Coach Anthony!
NICK, Assistant Strength Coach, Novi
Prior to working for MECA, Nick spent the first 7 years of his career working at Bystol Performance Center in Highland Park, Illinois. During this time, he broadened his knowledge of training while also learning how to build long-lasting relationships with clients while working towards their goals. Nick aims to get to know all of his clients on a personal level and educate them throughout the entire training process. Training has always been a big part of his life; it's something he truly loves, and strives to pass that same feeling onto everyone he works with. He enjoys working with all types of clients, ranging from young athletes to someone dealing with chronic pain. Regardless of who you are, Nick will provide you with service tailored to your needs.
Michigan State University – Bachelor's Degree in Kinesiology

NSCA Certified Strength and Conditioning Specialist (CSCS)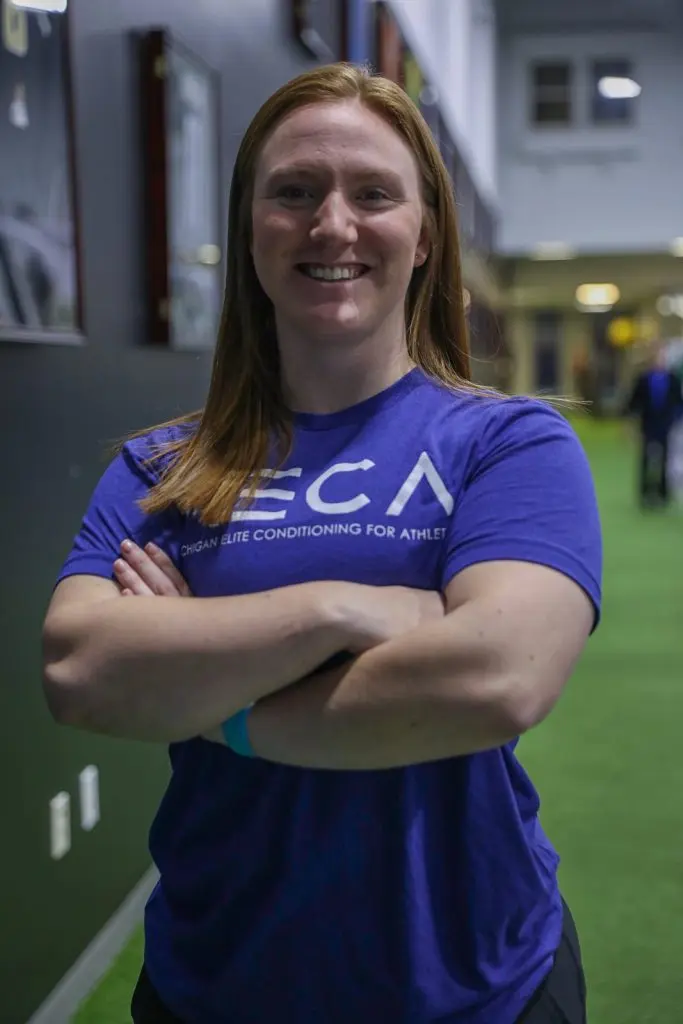 EMILY, Assistant Strength Coach, Novi
Emily Dodge is an Assistant Strength Coach who is eager to train those are wanting a big change. As a retired collegiate athlete, Emily recently graduated from Wayne State University with her Master of Science degree, focussing on Exercise and Sport Science. After tearing her ACL during softball, Emily developed a new perspective of both the physical and mental well being of athletes associated with injury, and now has a passion to prevent others from doing the same.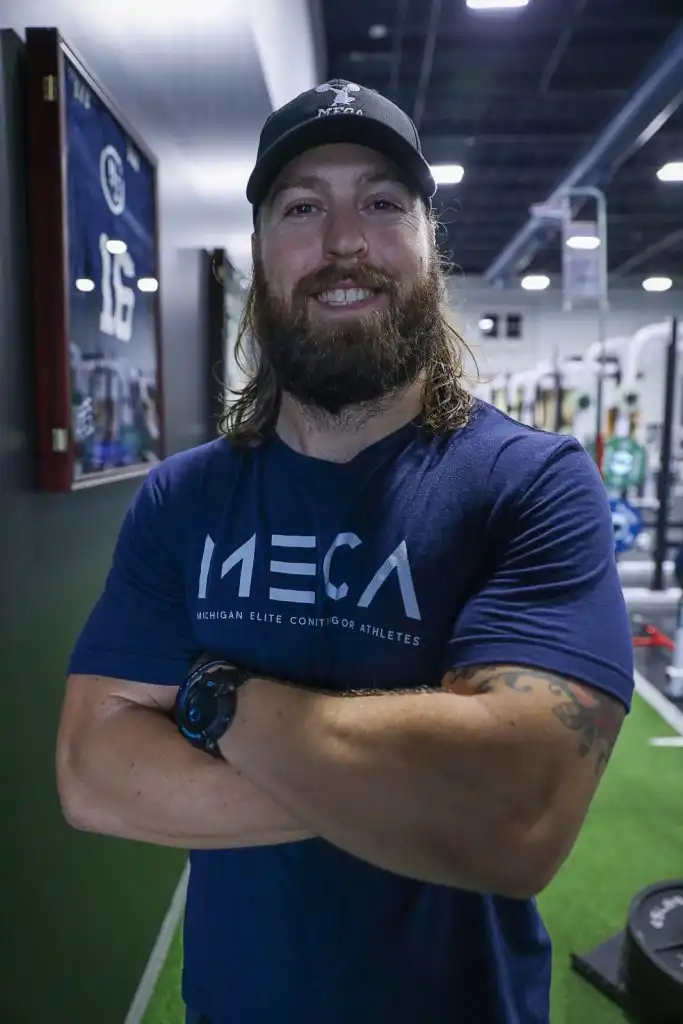 CHRIS, Assistant Strength Coach, Novi
Chris is a great coach with an extensive background in life and sport.  Chris is an ex-Marine and College Football player who learned how important the training lifestyle was to not only sports performance, but mental health as well.  Chris works hard to get clients comfortable with the uncomfortable process of change in the weightroom and life..  Chris loves working with clients of all skill levels and personalities, come check out why!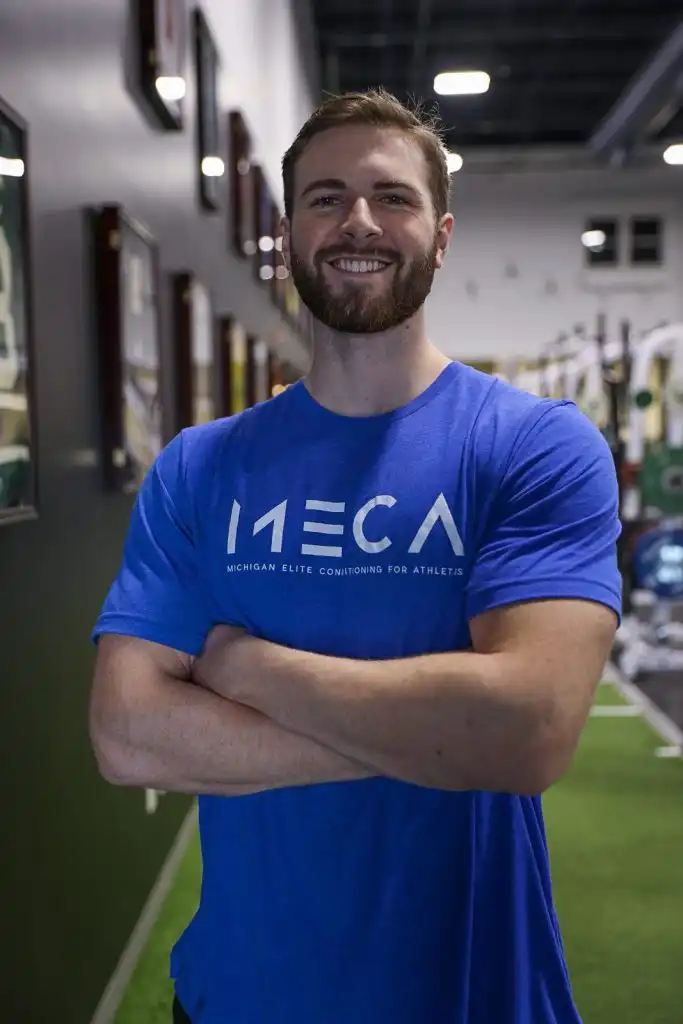 JARED, Assistant Strength Coach, Novi
Jared joined the MECA team after graduating from Eastern Michigan University with his Bachelors in Exercise Science.  Jared learned to fall in love with strength training through tragic injuries ended his basketball career earlier than expected. Strength training filled a void in Jared's life that he would like to help fill for others seeking personal, mental or physical growth.  Jared is eager to help you find success in the gym, and loves working with clients of all types.  He looks for his clients to have a driven mindset and those who are invested in making serious change.  Can that be you?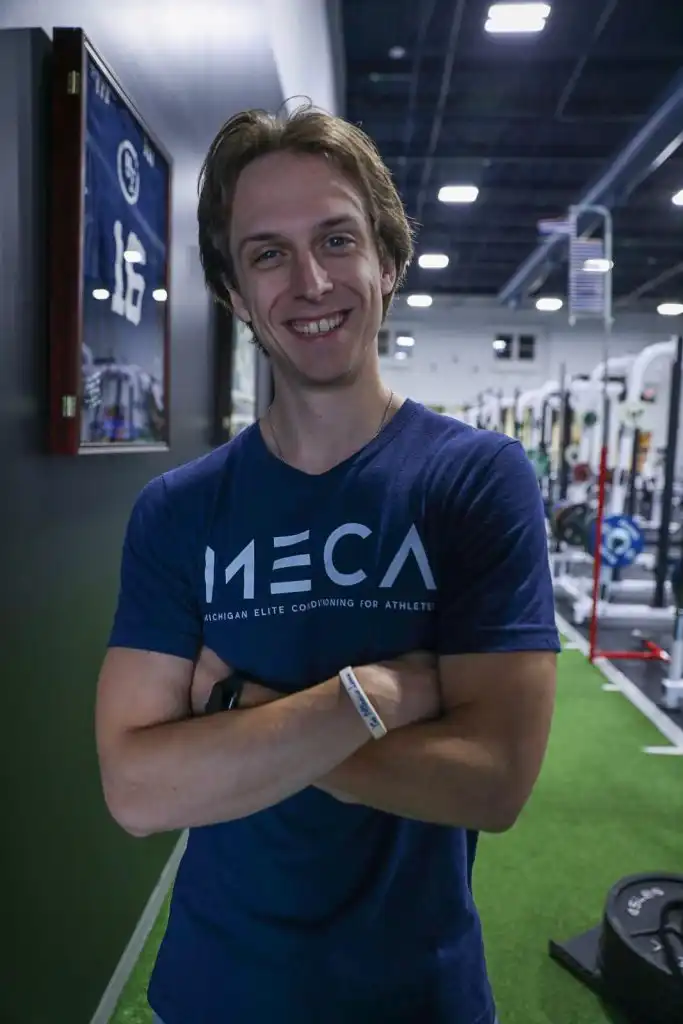 ZAC, Assistant Strength Coach, Novi
Zac is from Grand Blanc, Mi,  joined the MECA team after graduating from Adrian College where Zac earned his Bachelor's Degree while also playing football as a defensive back.  Zac got into our field through learning the power of having a coach who invests and helps get the best out of the athlete.  Zac is a competitor and loves to work with athletes and others who are invested in doing the hard work required to see great results.  Zac loves to be a mentor and role model to our young athletes looking to make a big impact in their lives and sport.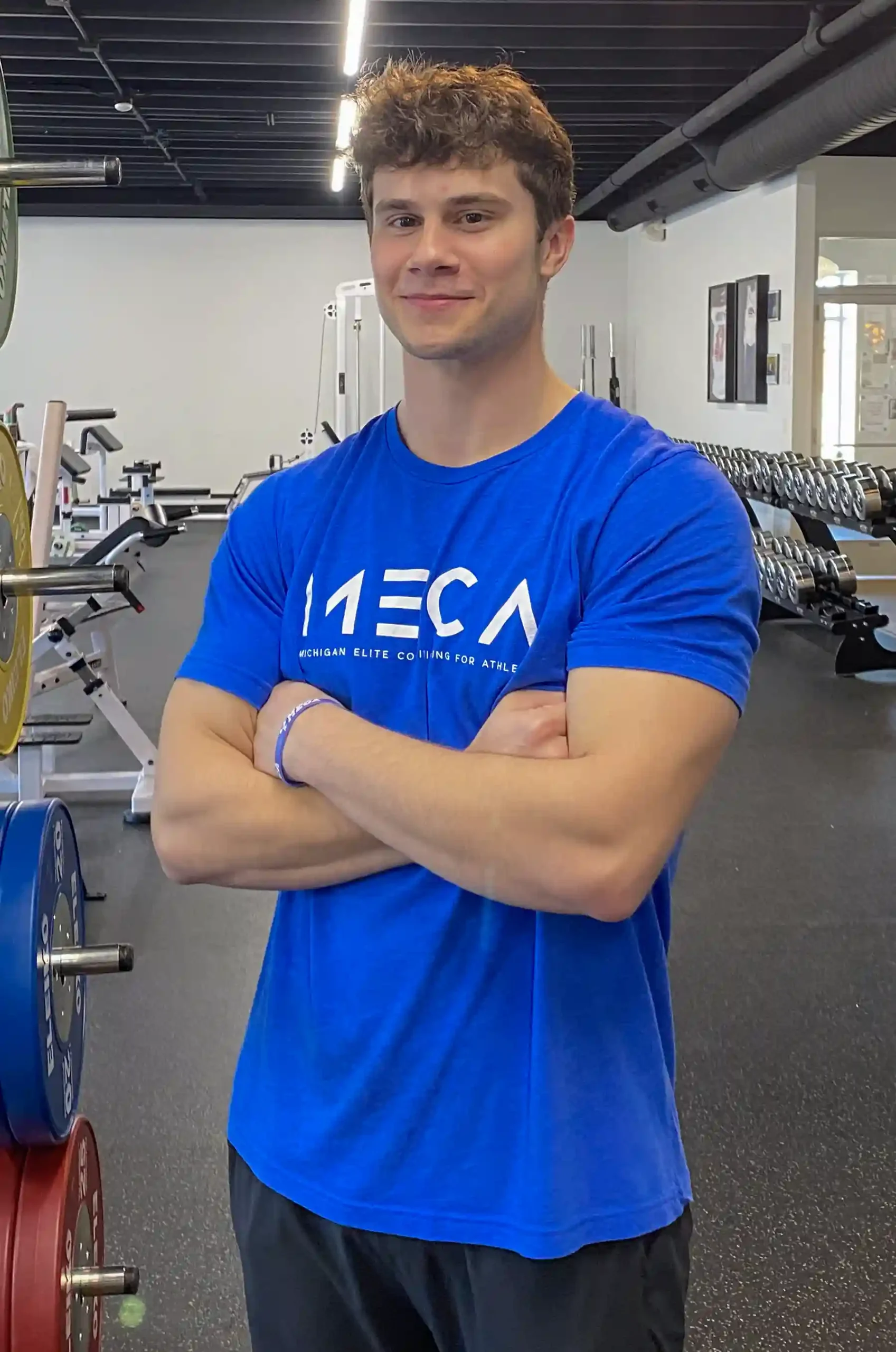 NOAH, Assistant Strength Coach, Grand Rapids
Noah Fye holds the position of Assistant Strength Coach at MECA Grand Rapids, embodying a profound dedication to fostering physical fitness and elevating athletic performance.
From an early age, Noah's active participation in a diverse range of sports instilled in him a genuine reverence for various athletic disciplines. While wrestling held a prominent role throughout his early years and continued into high school, Noah also demonstrated his versatility by engaging in pursuits such as baseball and football.
In May of 2022, he achieved a notable milestone, graduating with a distinguished degree in Exercise Science from the esteemed University of Iowa, thus establishing a robust academic foundation within the field.
As a professional strength coach, Noah derives immeasurable satisfaction from witnessing clients wholeheartedly embrace the rigorous training process, as their unwavering commitment and arduous endeavors yield tangible and remarkable results.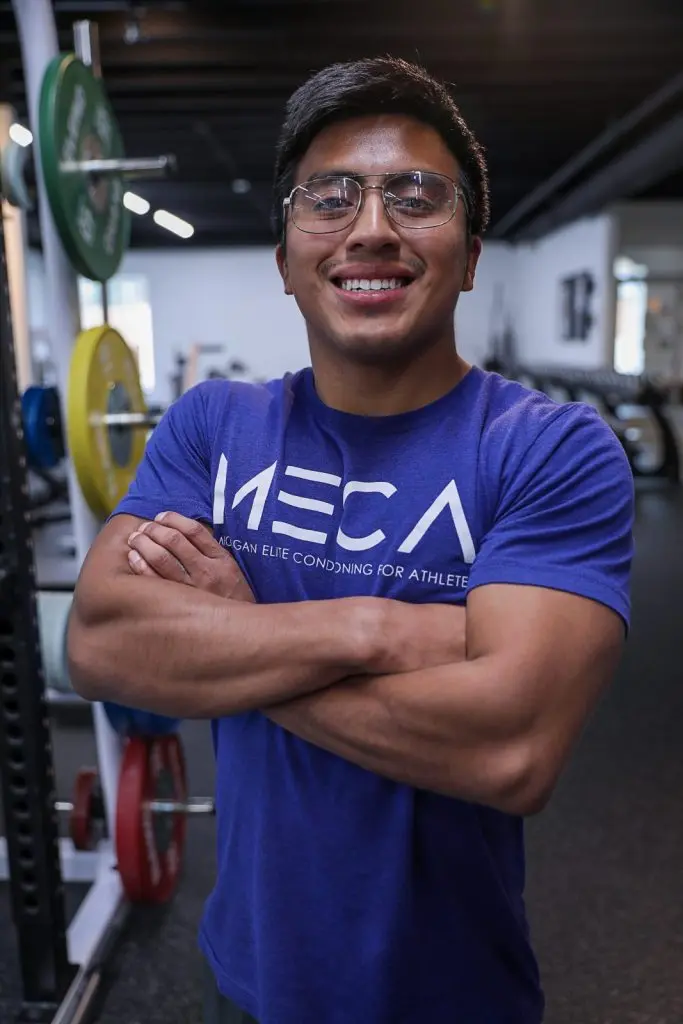 SEAN, Assistant Strength Coach, Grand Rapids
Sean, a seasoned professional in the field of athletics, boasts an impressive background as a former collegiate wrestler and a dedicated trainer of individual sports athletes.
With a degree in exercise science from GVSU and practical experience in the medical field, he brings a comprehensive understanding of human performance and wellness to his practice.
As a former athlete himself, Sean finds immense fulfillment in guiding and empowering athletes to unlock their true potential, enabling them to reach new heights of performance.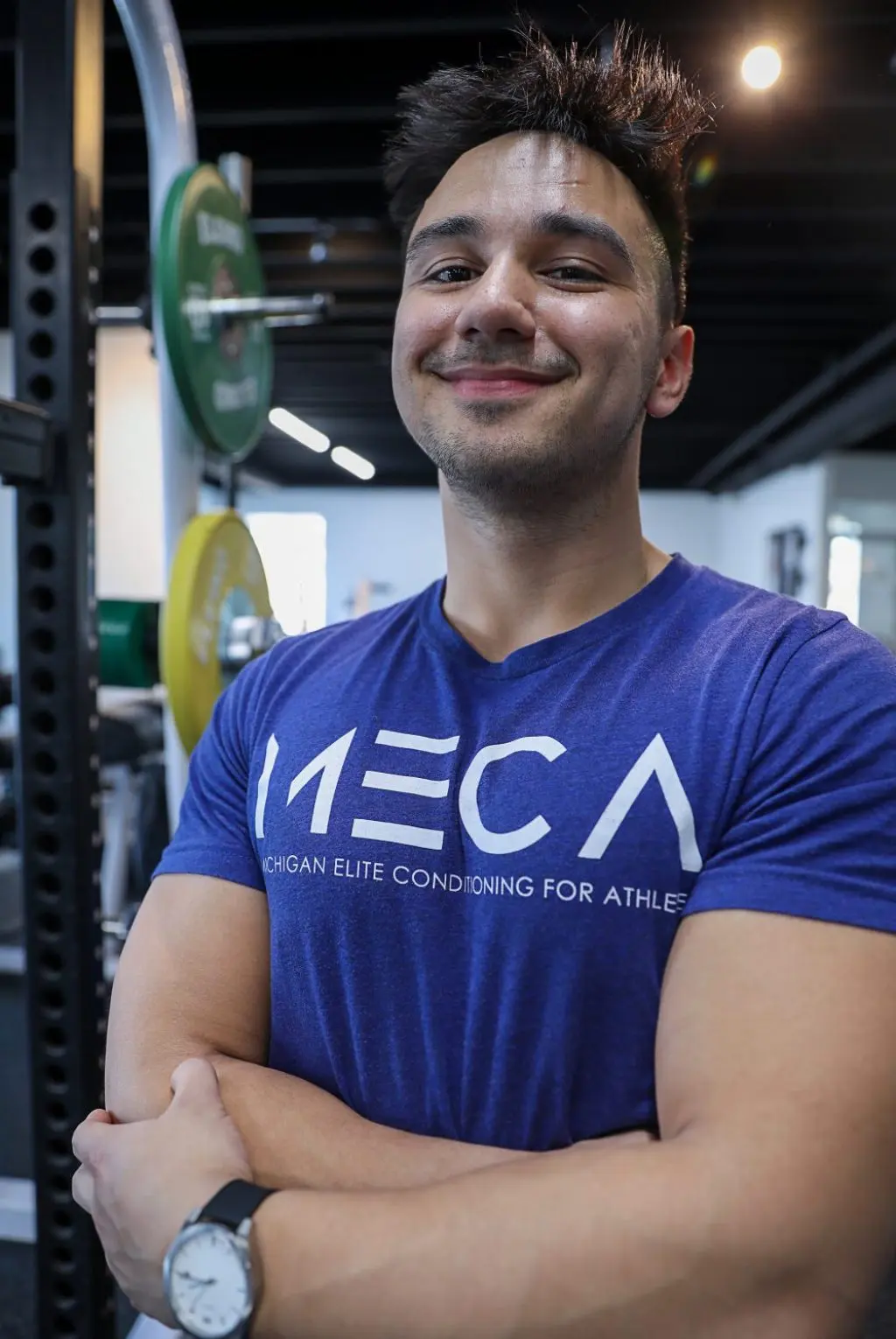 CODY, Assistant Strength Coach, Grand Rapids
Cody Tiedeman is a valued strength coach at MECA Grand Rapids, bringing with him a wealth of experience and a lifelong passion for the field.
He completed his education at Grand Valley State University and has dedicated a significant portion of his life to strength training. Cody's enthusiasm for sharing knowledge is evident as he eagerly educates his clients, drawing from his years of practical experience.
He takes great satisfaction in helping individuals make progress in their fitness goals, recognizing the positive impact it can have on their personal lives.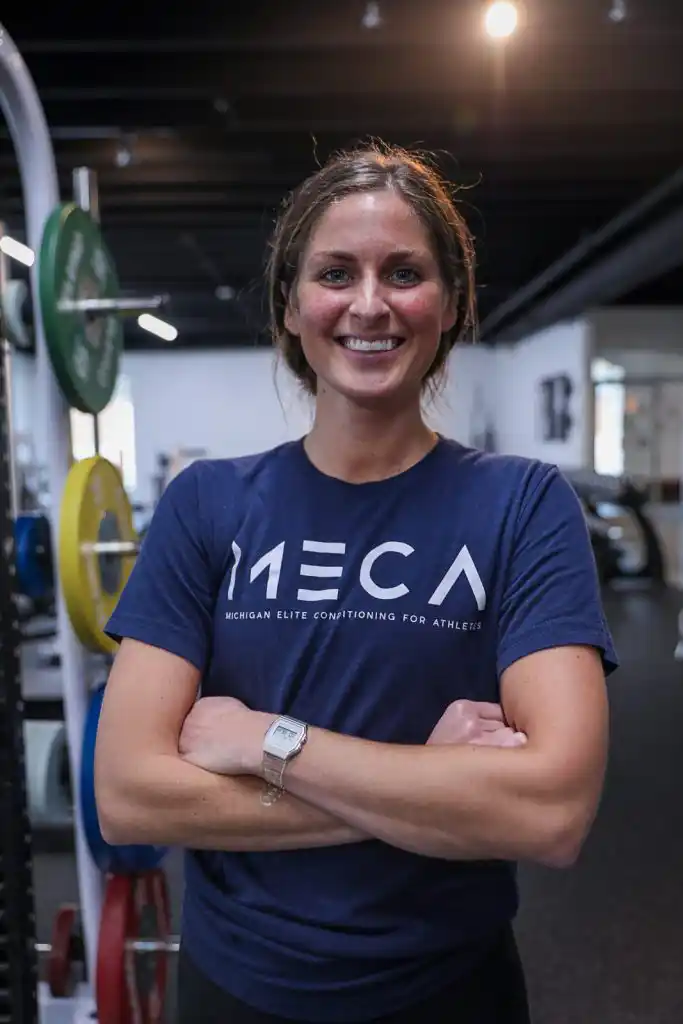 LIZ, Assistant Strength Coach, Grand Rapids
Liz VanderLende, a dedicated strength coach at MECA in Grand Rapids, brings a wealth of expertise and a passion for helping others. Armed with a bachelor's degree in exercise science from GVSU, Liz finds joy in sharing her knowledge with those she works with.
Her personal journey of overcoming scoliosis surgery during her adolescence ignited her interest in strength training and the remarkable benefits it brings in terms of strength and mobility.
Liz is deeply gratified by the opportunity to assist individuals in achieving similar transformations and improving their overall lifestyle through fitness.
Her genuine care for promoting well-being and inspiring positive changes makes her an invaluable member of the MECA team as a strength coach.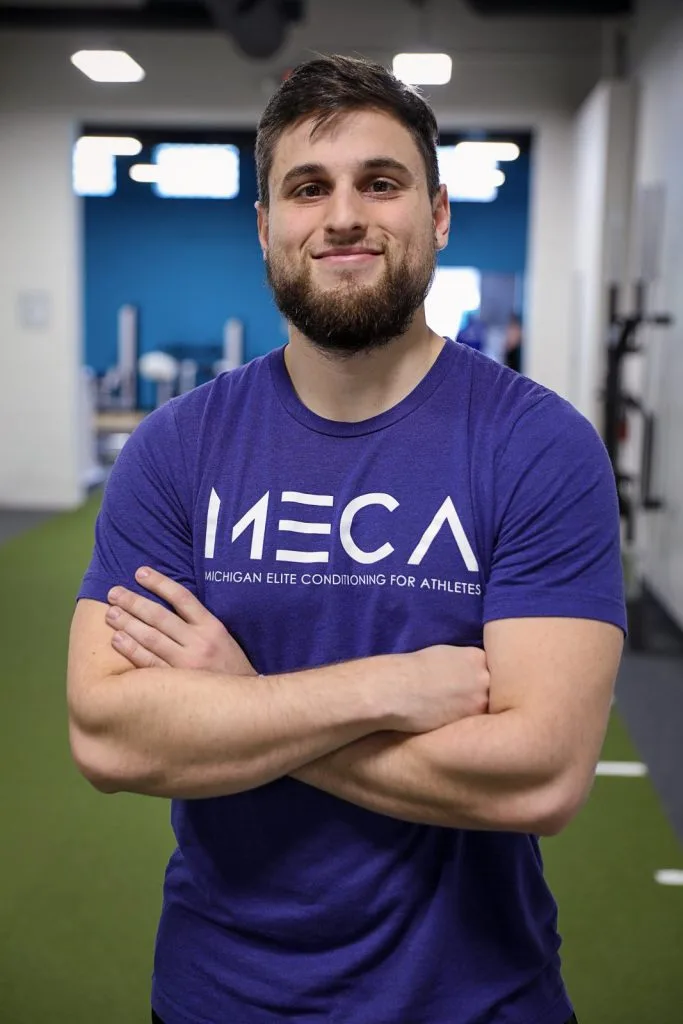 SCOT, Assistant Strength Coach, Royal Oak
Having dealt with nagging injuries that prevented Scot from realizing his own potential, it sent him on the path of helping others overcome similar obstacles. Scot has been a strength coach with MECA for over 2 years. Scots' passion for sports and exercise led him to MECA to pursue a career in helping others achieve their potential by reaching and exceeding their fitness and athletic goals. Scot graduated from Oakland University with a degree in Exercise Science and is a Certified Strength and Conditioning Specialist (CSCS). Scot specializes in training individuals with nagging injuries by helping them to get out of pain and ultimately allow them to reach their goals. He believes that training shouldn't be 'one size fits all', which shows up in the approach to training his clients.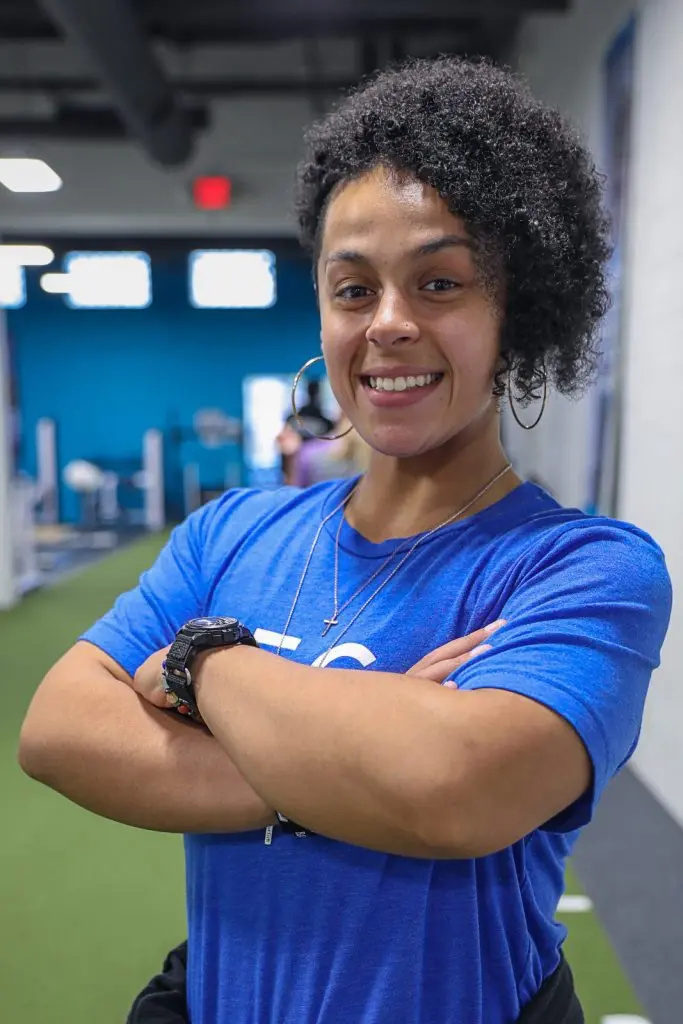 TAYTUM, Assistant Strength Coach, Royal Oak
Taytum is a coach with a passion to make people work hard, feel good and have a good time! She comes with a bubbly personality and a laugh that can be heard miles away. Taytum graduated college with her Bachelors in Exercise Science. Where she also played basketball and was the student assistant for the team too! She continues to train basketball athletes on their game outside of MECA and hopes to grow her basketball training business. Before working for MECA, Taytum was a personal trainer at two different gyms, as well as a basketball sports performance coach for another training company. Ever since she was young, she's had a drive to help others and she knew she hit the jackpot when she fell in love with fitness. Now, she can live her true purpose by helping others through fitness! Taytum hopes to become one of the best trainers on the planet with the help of MECA.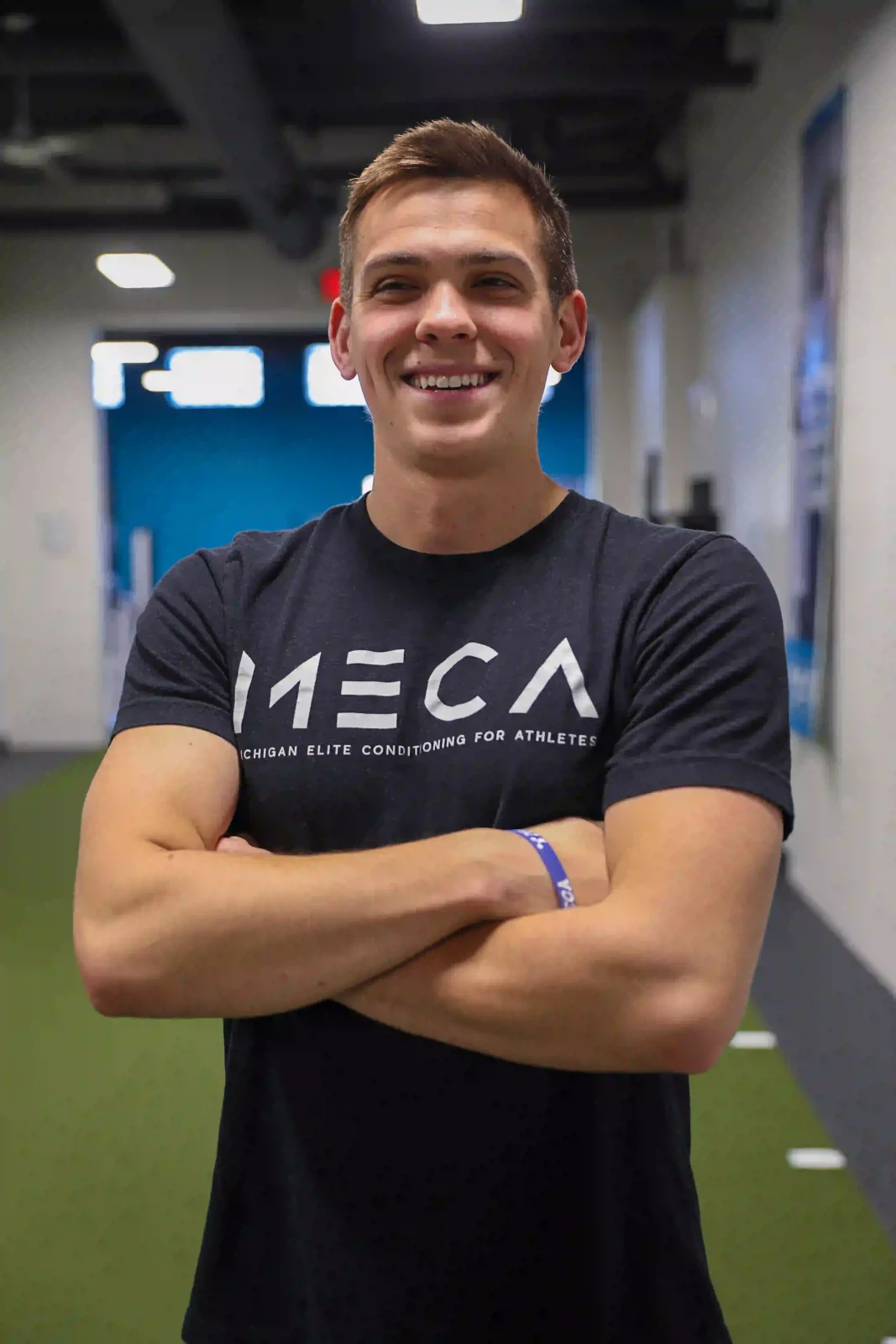 AUSTIN, Assistant Strength Coach, Royal Oak
Austin is an enthusiastic coach striving to help other reach their goals and improve their quality of life. He is passionate in showing people the importance of hard work and that it is possible to reach their potential. Austin graduated with a bachelors in exercise science and a minor in business ay Western Michigan University. With family members who have struggled with health complications, Austin knew he wanted the knowledge he's learned to others, so they don't face the same struggles.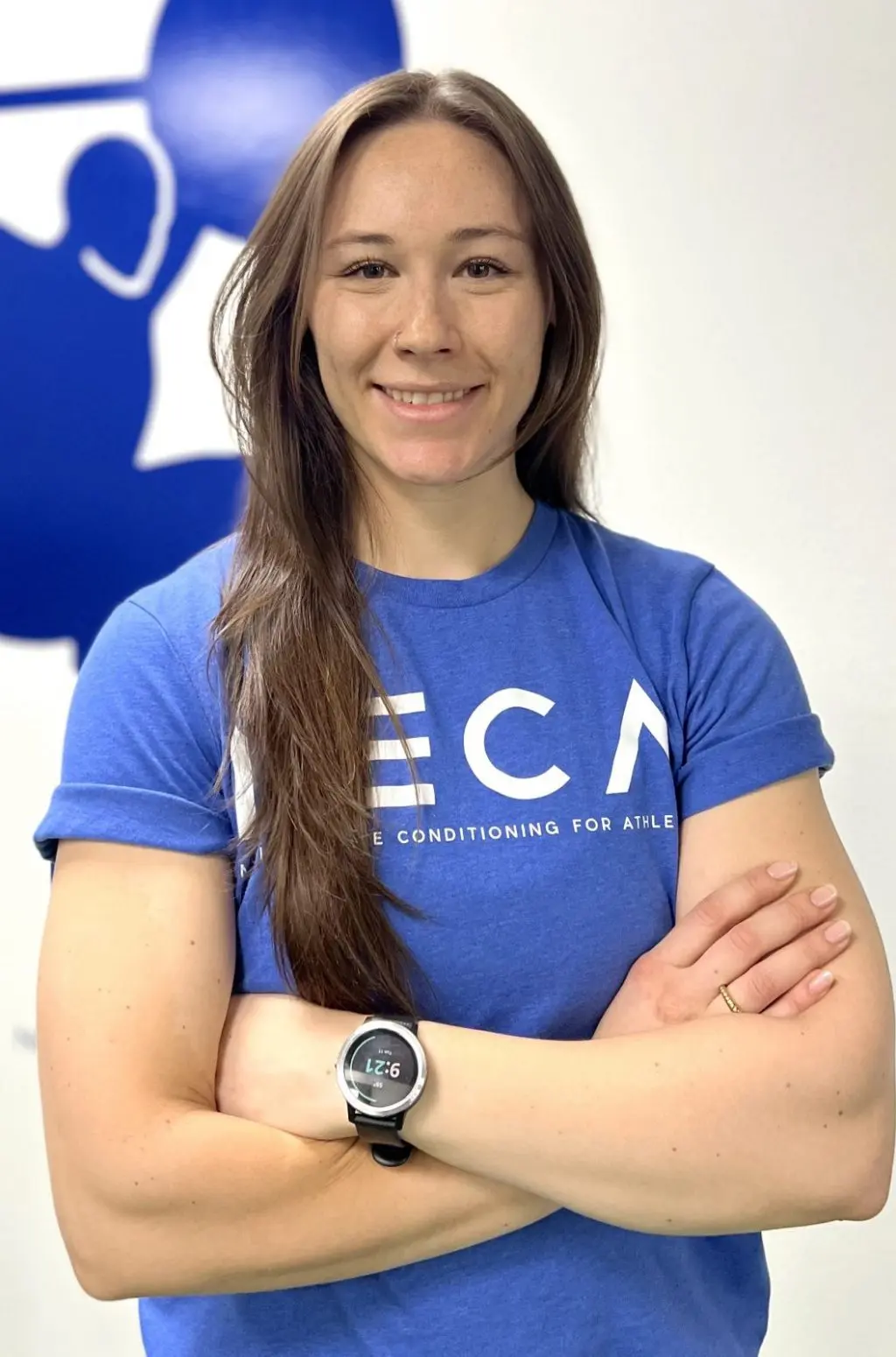 ANNALIESE, Assistant Strength Coach, Chicago
Annaliese grew up in Colorado, attending and graduating from Colorado State University with a Bachelor of Science in Health and Exercise Science and Sports Medicine. She then completed her Master of Science degree from the University of Edinburgh in Scotland in Performance Psychology. Annaliese's previous experience and education have allowed her to combine her passions for sports and exercise with mental skills training and psychology, which she integrates into her work and everyday life. 
As a part of the MECA Team, Annaliese strives to provide her clients with health and longevity by building a well-rounded foundation of physical and mental training through weight training, lifestyle habits, and mental skills training. Her education and experiences have taught her the underlying psychology of success and detailed exercise physiology to ensure her client's goals are met. Most importantly, Annaliese aims to make sure her clients have fun while learning a new skill.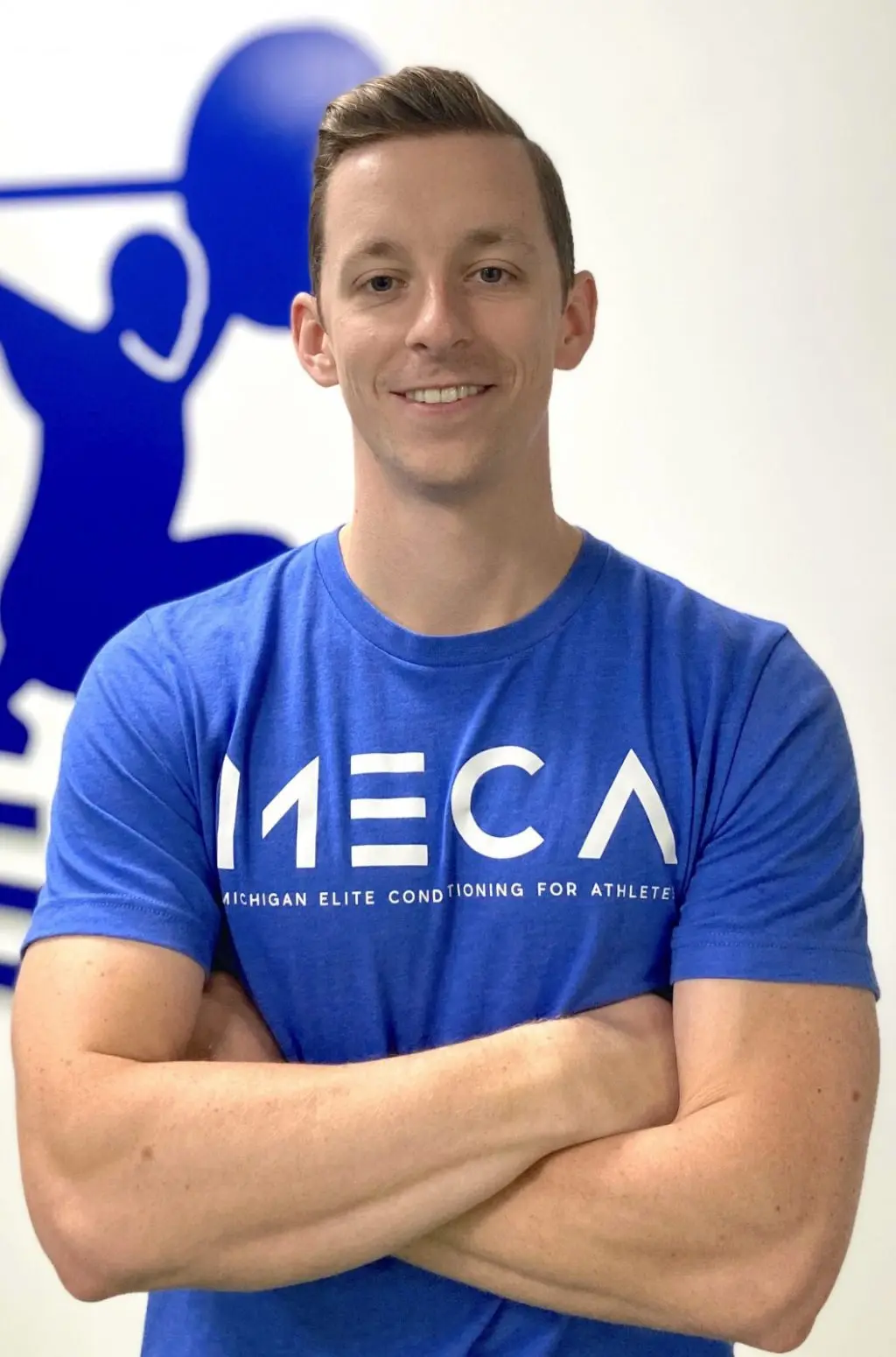 ALEX, Assistant Strength Coach, Chicago
Originally from Mount Prospect, Illinois, Alex developed a passion for baseball and basketball during his time at John Hersey High School. He pursued his education at Western Illinois University, graduating with a Bachelor of Science in exercise science and a minor in nutrition. Throughout his undergraduate years, Alex gained valuable experience as an intern at the UIC Strength and Conditioning department, working closely with Division I teams such as men's and women's basketball, women's volleyball, and men's and women's swimming and diving.
Continuing his professional development, Alex secured another internship opportunity at Northwestern University's sports performance department while completing his undergraduate degree. There, he trained with prominent Big Ten Division I teams, including men's basketball, baseball, wrestling, women's volleyball, women's soccer, and men's swimming. And now he's part of the MECA Chicago training staff.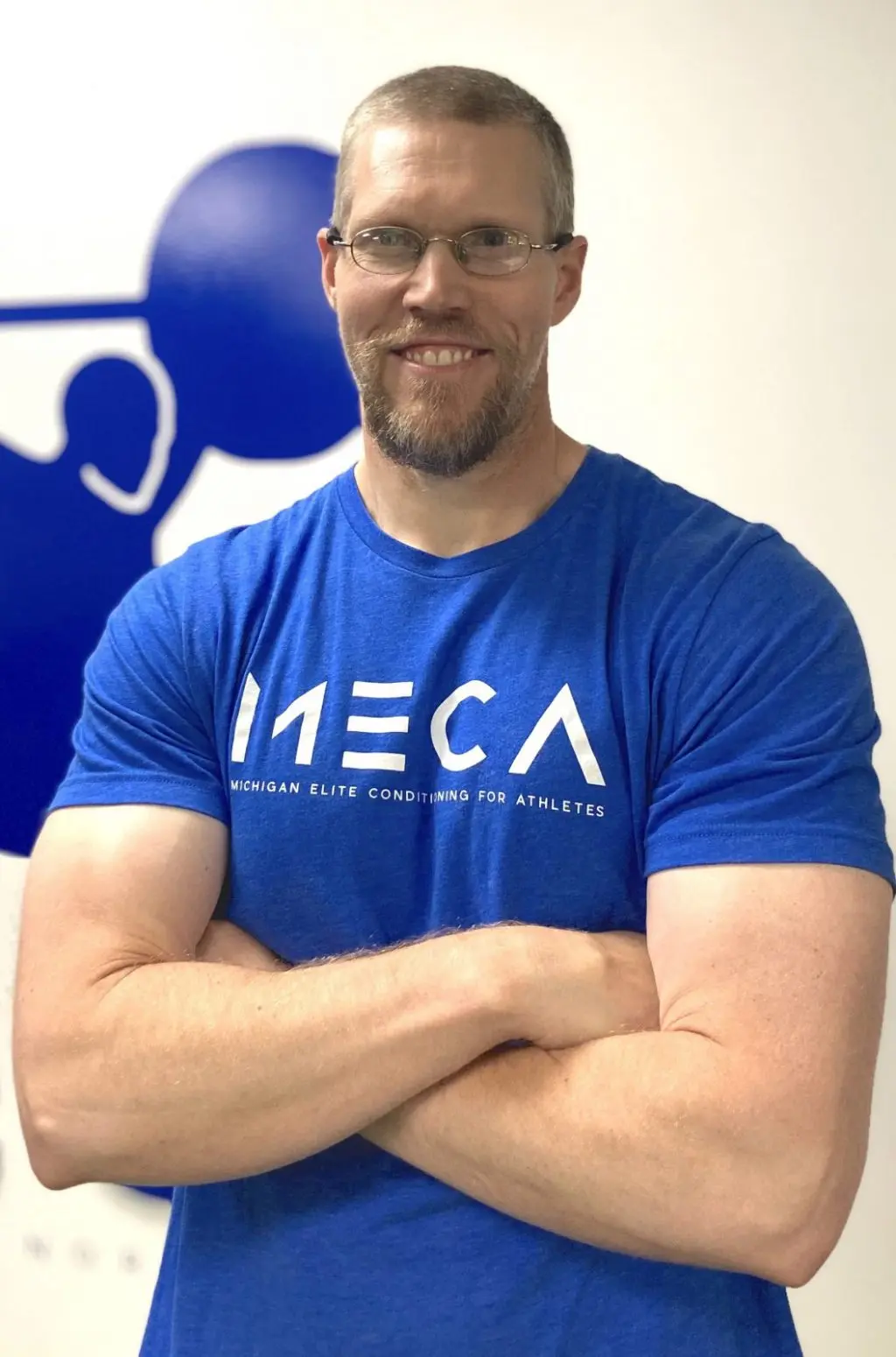 JOHN, Assistant Strength Coach, Chicago
John's expertise spans 23 sports, guiding athletes of all levels, from youth to professional, towards their next milestones. His extensive experience includes training individuals in renowned leagues such as the NFL, NHL, NBA, AHL, ECHL, NCAA, AFL, and Lega Basket Series A. Moreover, he has worked with national and Olympic teams in volleyball, hockey, sailing, speed skating, and alpine skiing, further solidifying his versatile approach to elite athlete development.
John's professional journey led him to esteemed roles prior to joining MECA. He honed his expertise as a strength and conditioning coach at the Poliquin Performance Center and the Chicago Sports Institute. Additionally, he held the esteemed position of Director of Sports Performance at the Institute of Sports Excellence in Logan, Utah.
Equipped with a bachelor's degree in physical education and a master's degree in exercise science from Utah State University, he brings a wealth of knowledge to his field. Notably, his research on the impact of stretching opposing muscle groups on strength and power earned publication in the esteemed Journal of Strength and Conditioning Research.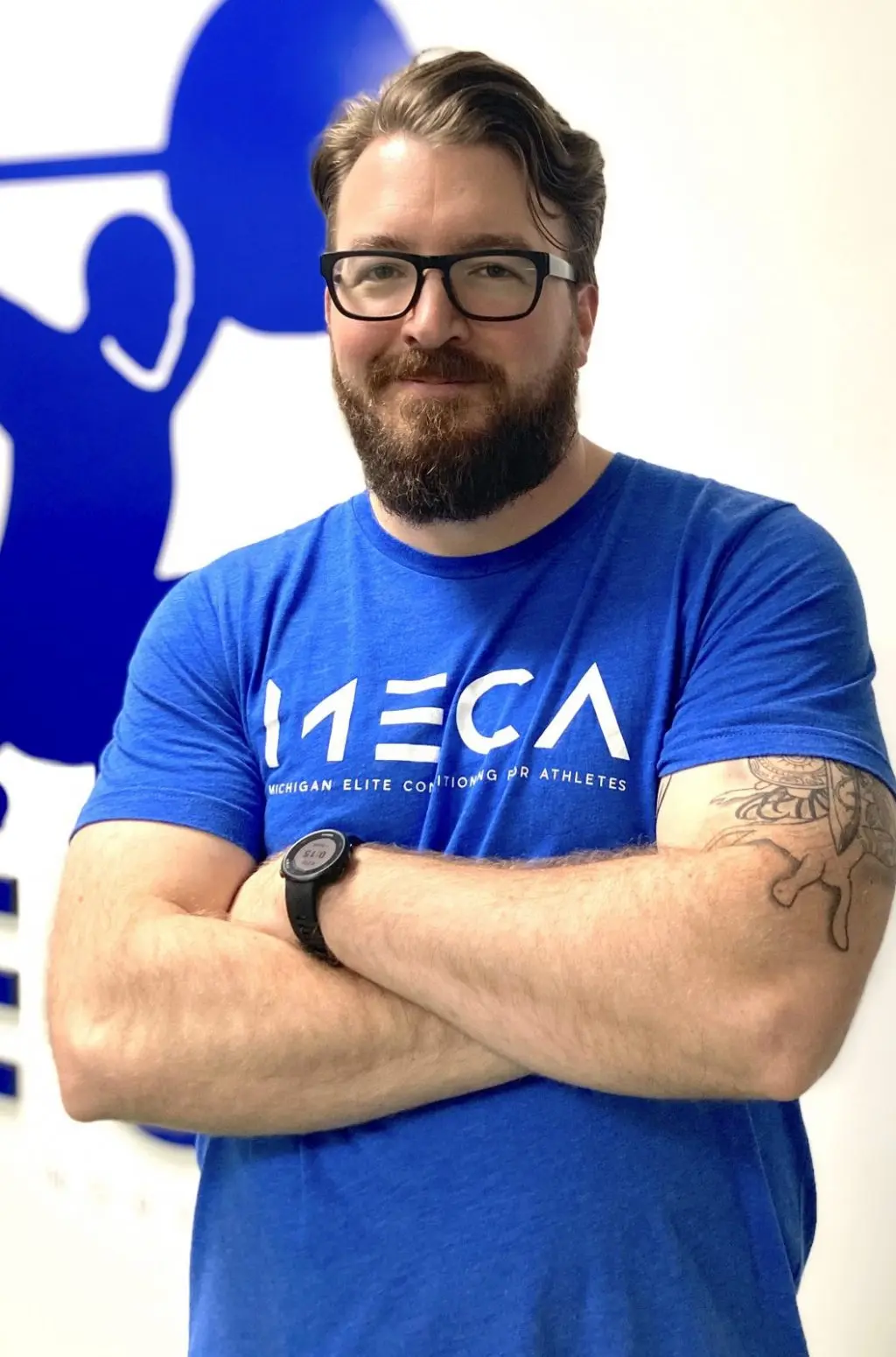 PHIL, Assistant Strength Coach, Chicago
Phil grew up in southwest Wisconsin where he was a three-sport athlete throughout his years at Riverdale High School. He attended the University of Wisconsin–La Crosse, where he majored in sports management with a minor in recreational management and concentration in strength and conditioning.
When he wasn't in class, Phil was either playing rugby or powerlifting. With his expertise in sports management, he quickly became the president of these organizations, and, through his diligent work, brought them to new heights. Phil's experience in college helped him obtain an internship at Athletes Performance in Arizona where he worked as a strength and conditioning coach with MLB and NFL players.
After this experience, Phil moved to Chicago to work for Poliquin Performance Center as a strength and conditioning coach before joining us at the Chicago Sports Institute and now MECA.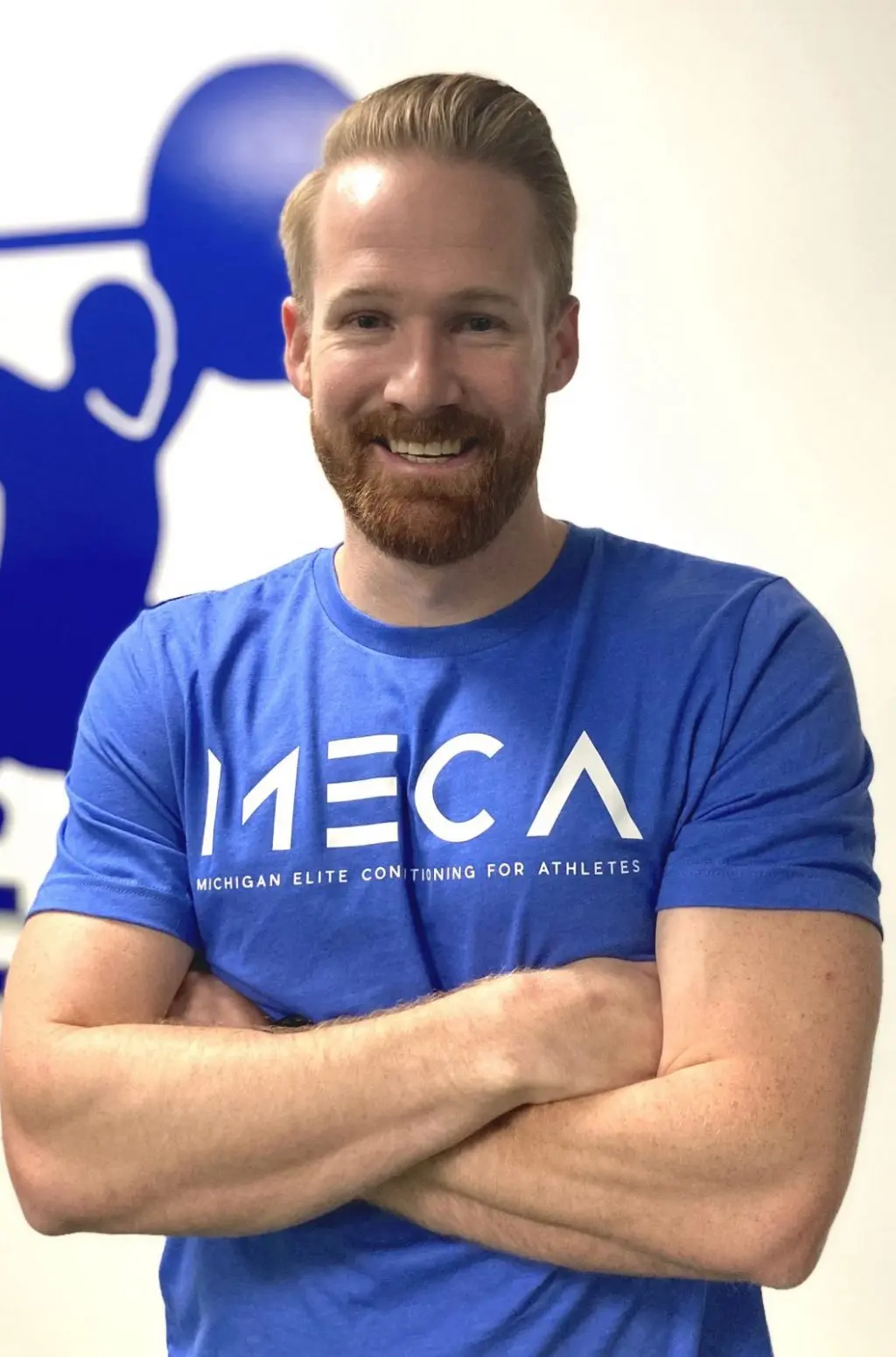 GAVIN, Assistant Strength Coach, Chicago
Gavin is from Crystal Lake, Illinois where he grew up and played both baseball and basketball at Crystal Lake South High School. He went on to play DII Baseball at Quincy University for five years. He helped lead his team to the Great Lakes Valley Conference Championship in 2011 and received the All-Conference award that same year. During his years in college, he had the opportunity to play summer baseball all around the country. These summer teams would host camps for the kids in the area, which gave Gavin the opportunity to train athletes.
In 2013, he graduated from Quincy University with a Bachelor of Science degree in Sport Management and a minor in Marketing. That same year, he had hip labrum surgery and was forced to medically red-shirt. In 2014, he came back for a fifth year to finish out his playing career and to earn his Master of Business Administration. 
Following college, Gavin has been working in the business world, while his interest in fitness continued to increase. His passion for fitness, prior experience as a collegiate athlete and injury history, has led him to pursue a career as a Performance Coach. 
Gavin's goals are to help clients prevent injuries and achieve their goals as they push themselves everyday.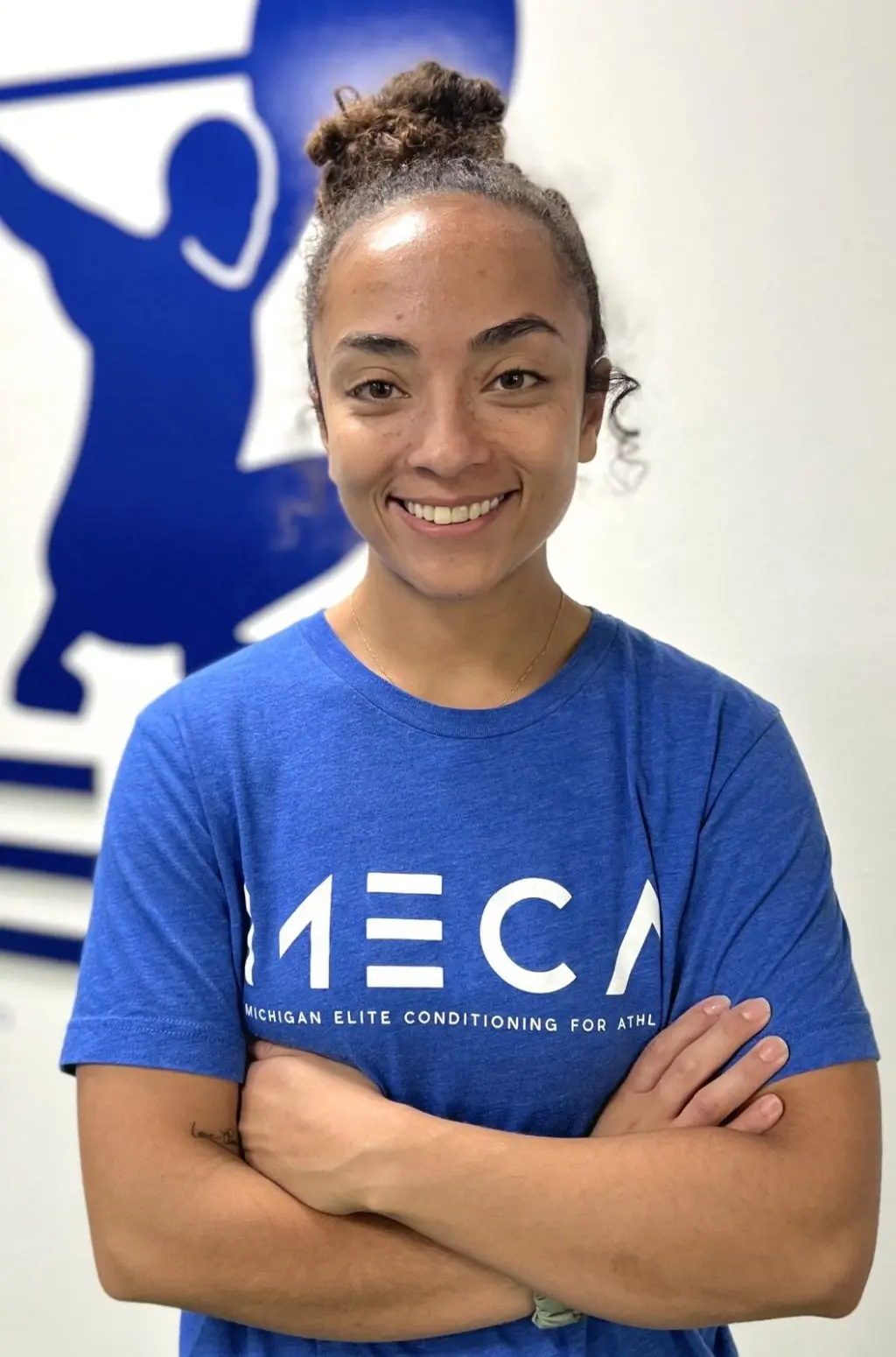 NIA, Assistant Strength Coach, Chicago
Nia grew up in a family of 7 in Kenosha, Wisconsin. Her and her 4 brothers were very sports focused from a young age. Nia played soccer, volleyball, and lacrosse growing up, but found the greatest passion for lacrosse just before starting high school.
Nia played Division I women's lacrosse at Marquette University in Milwaukee, Wisconsin. This exposure to training alongside high caliber athletes of various sports really solidified her love for fitness. During her junior year, through an athlete's study abroad program, Nia joined athletes from various universities all over the country and traveled to Spain for an internship. Nia interned at the Valencia Tennis Academy as an assistant strength and conditioning coach and was able to train elite tennis players from over 12 different countries. After returning home she was confident that performance coaching was the right path for her. Nia received her Bachelor's degree in Exercise Physiology from Marquette. 
For the past 5 years Nia has been coaching club lacrosse and traveling with her team to various highly competitive tournaments throughout the country. Nia is passionate about educating the people she interacts with on the knowledge she has obtained through experience and study. She feels the most fulfilled when she is able to pass on something she has learned and sees it have a compounding impact in another person's life.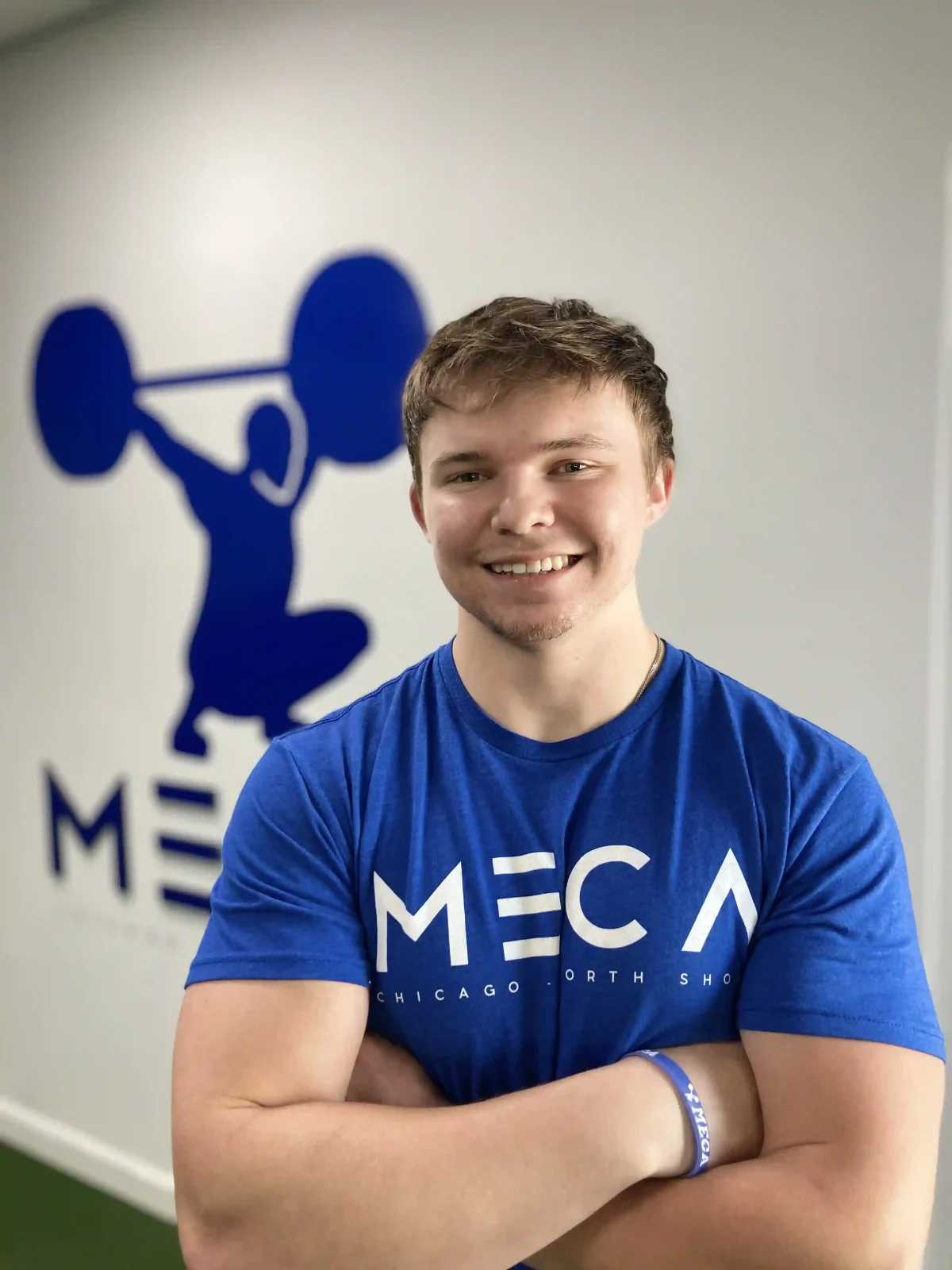 CADE, Assistant Strength Coach, Chicago
Cade graduated from St. Ambrose University earning a B.S in Human Performance & Fitness and also played football for 4 years. Playing sports all his life, Cade realized how important health and training is which quickly became a passion he decided to make a career out of. His mission is to bring the absolute best out of his clients and get them in the best shape of their life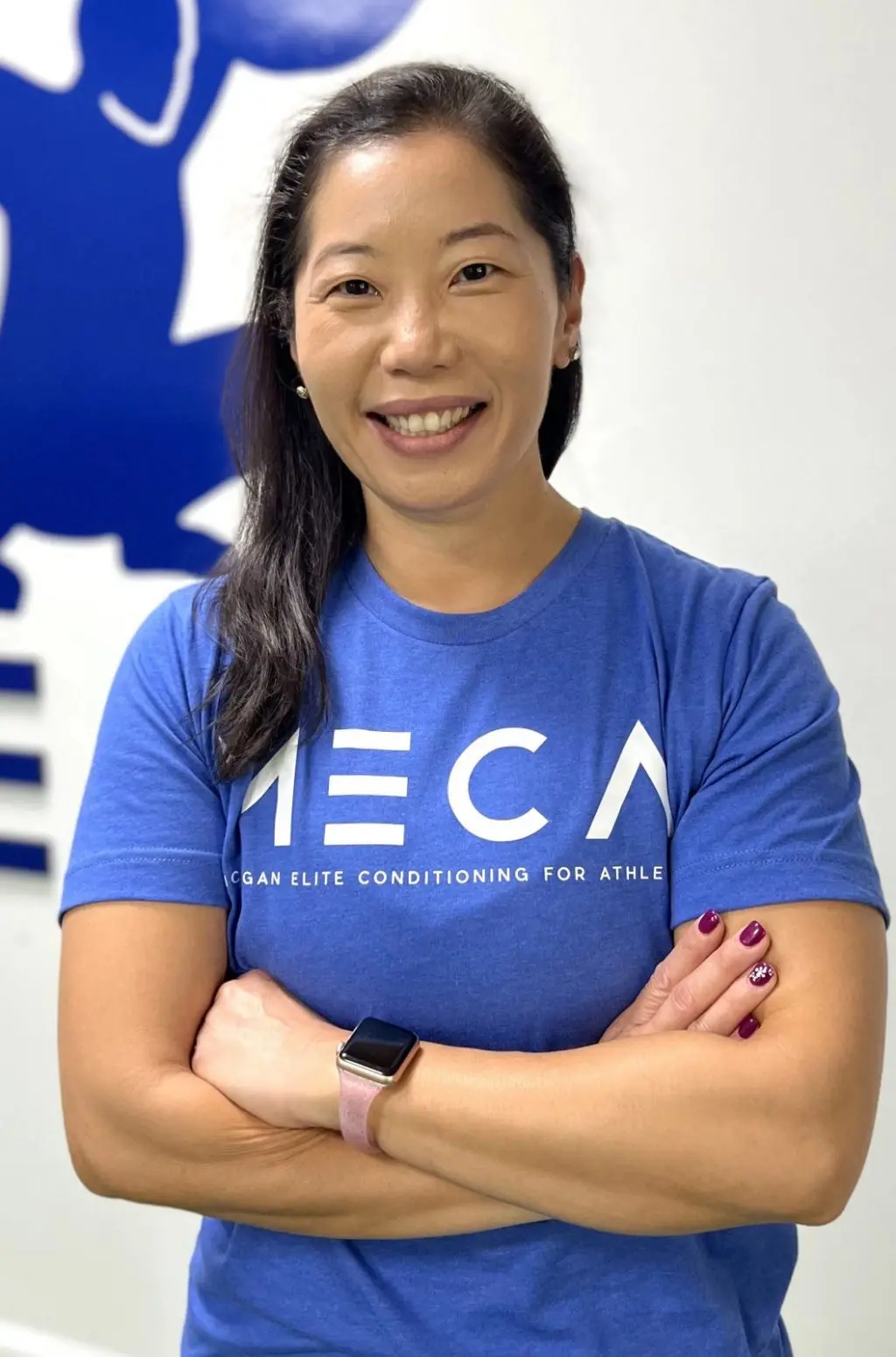 CRYSTAL, Assistant Strength Coach, Chicago
Crystal joined the MECA team in the summer of 2019. She received her BS from DePaul University in 2014. Her passion for fitness, strength and wellness brought Crystal to MECA. Her main focus is helping clients attain positive physical and mental results through strength training and overall fitness. Her passion lies in improving and changing her client's lives.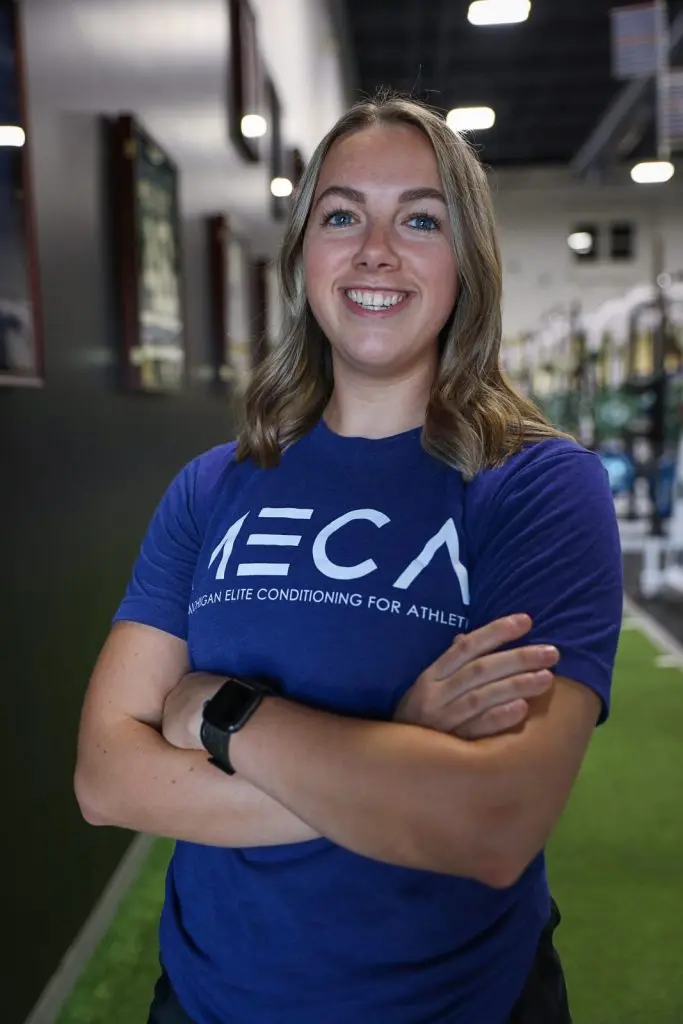 Hannah, Sports Nutritionist, Novi
Hannah joined the MECA team as a graduate from Michigan State University, with a bachelors in Kinesiology. Hannah also played Lacrosse at Michigan State all four years of her degree as well.  As a former college athlete- Hannah had to learn the value in proper nutrition through a busy schedule and consistently changing variables of the collegiate lifestyle.  Hannah enjoys working with all clients at MECA, helping them find comfort in establishing new habits both in and outside of the gym.  Look to work with Hannah to ensure the best progress possible!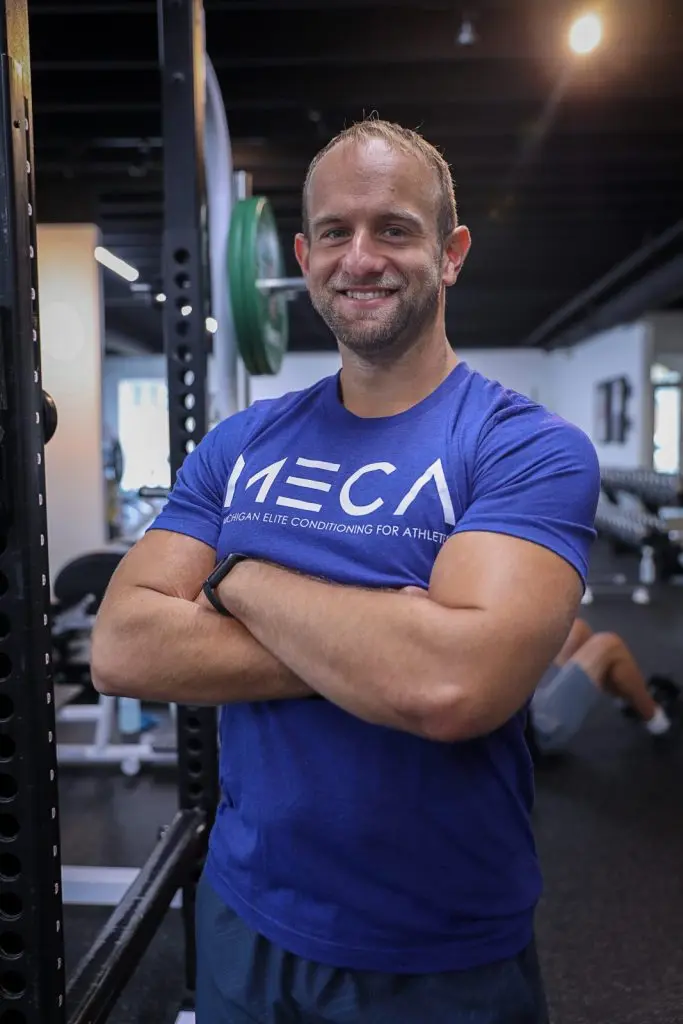 NICK, Sports Nutritionist, Grand Rapids
Nick LaRoche holds the critical position of Sports Nutritionist at MECA Grand Rapids, where he is deeply committed to optimizing individuals' dietary needs. His journey into the world of nutrition began at the age of 12 when he confronted and overcame a significant struggle with excessive weight, shedding an impressive 100 lbs. This transformative experience ignited a profound passion and understanding of the vital role nutrition plays in overall health and well-being.
With a solid background in personal training and certifications in Poliquin Biosignature Modulation and NASM CPT, Nick brings a wealth of expertise to his role. He further extends his knowledge in the field of Functional Medicine, holding certification as an Integrative Health Practitioner and board certification from the esteemed American Association of Drugless Practitioners.
Visitors to MECA are invited to take advantage of Nick's comprehensive assessments and personalized nutritional protocols. With his unwavering dedication and expert guidance, he empowers individuals on their transformative health journeys. Nick's goal is to make nutrition accessible and beneficial for all, ensuring that clients receive the support they need to achieve their goals.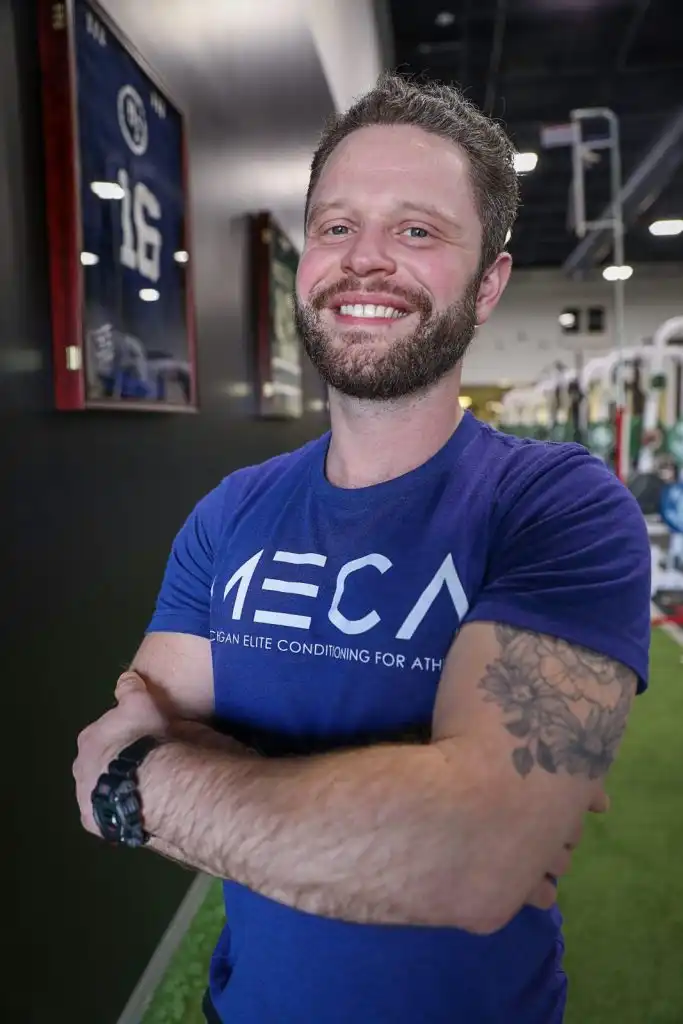 LOGAN, General Manager, Novi
Logan joins the MECA team bringing almost 5 years of Olympic weightlifting and Crossfit coaching experience. He also brings just as many years of experience in gym management. After a recent endeavor in a corporate senior living setting, Logan sought out opportunities to get back into a position he was passionate about in the fitness industry, helping others reach their fitness goals. Logan adds to the company's already stellar culture and reputation with his top-notch customer service and servant leadership. Logan holds a bachelor's degree in Business Administration, with a focus on Management.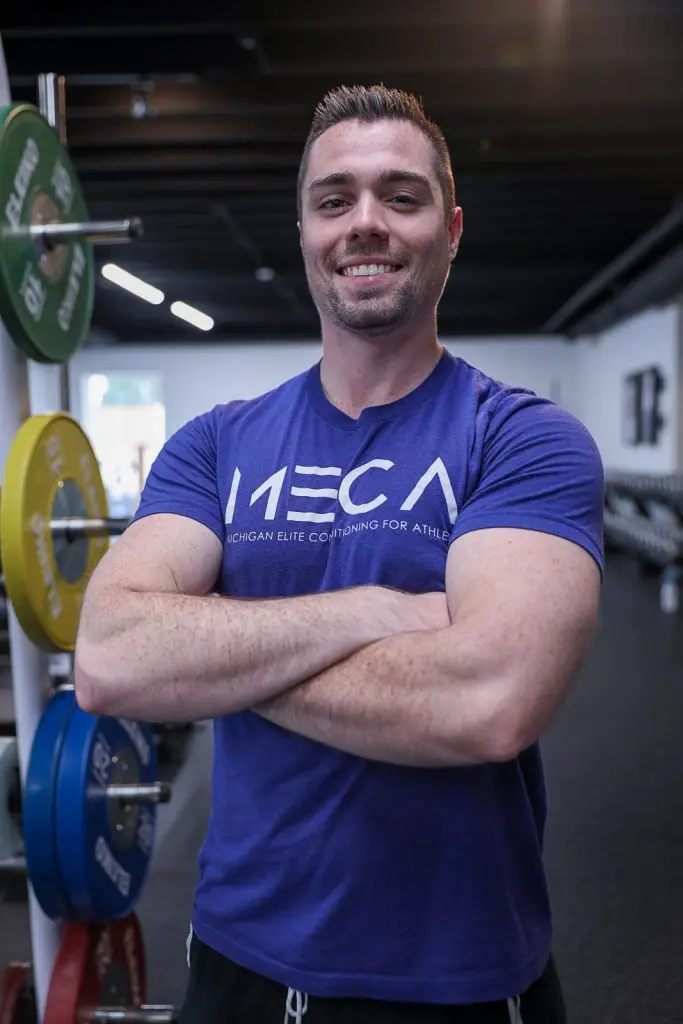 TREVOR, General Manager, Grand Rapids
Trevor Wojciechowski is General Manager at MECA in Grand Rapids, showcasing his extensive experience in the field. With a lifelong involvement in sports, he discovered the transformative power of strength training, leading to a profound impact on his life.
The manifold benefits he personally encountered, both in terms of mental and physical wellbeing, ignited a deep-seated passion within him to assist others in their journey toward self-improvement.
Trevor's academic background includes the successful completion of a kinesiology degree at MSU, bolstered by years of serving as a distinguished strength coach.
As he transitioned into his managerial position for the MECA Grand Rapids team, he found inspiration in witnessing individuals enhance their mental, physical, and emotional welfare, regardless of their initial starting point.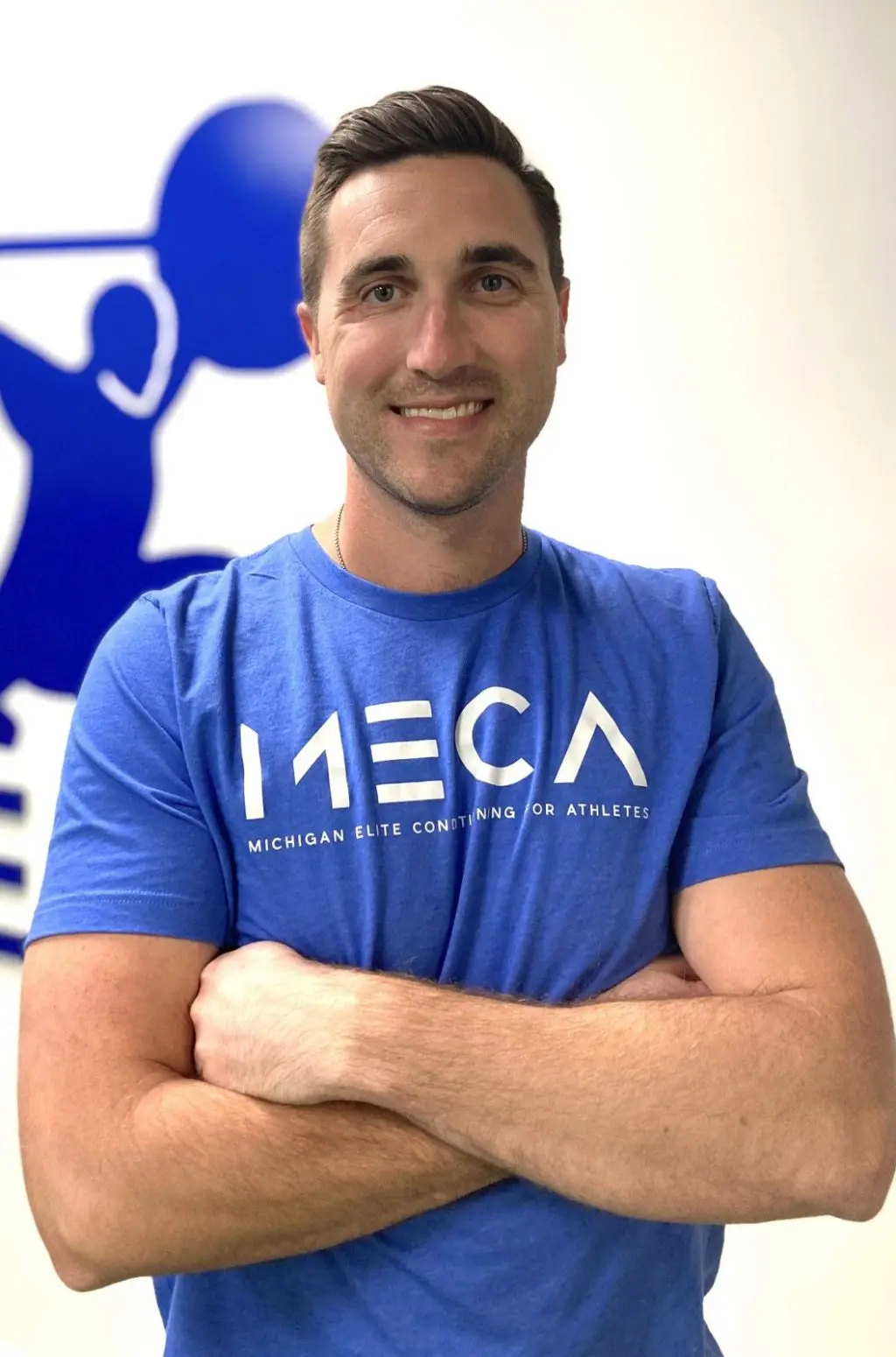 MICHAEL, General Manager, Chicago
Michael grew up in Mundelein, Illinois, where he played hockey mainly for the Falcons Hockey Organization. In high school, he trained under David at the Poliquin Performance Center and developed a strong interest in sports performance, ultimately deciding to pursue a degree in exercise science.
Michael attended Eastern Illinois University where he played hockey for four years. During this time, he led the team in scoring three out of his four years. He was the assistant captain in his junior year and captain in his senior year. He received the All-Conference award for his outstanding play in his senior year.
In 2013, Michael earned a Bachelor of Science in kinesiology with a concentration in exercise science. Following graduation, he had the opportunity to intern under David Hollinger, where he worked with athletes from junior high to the professional level.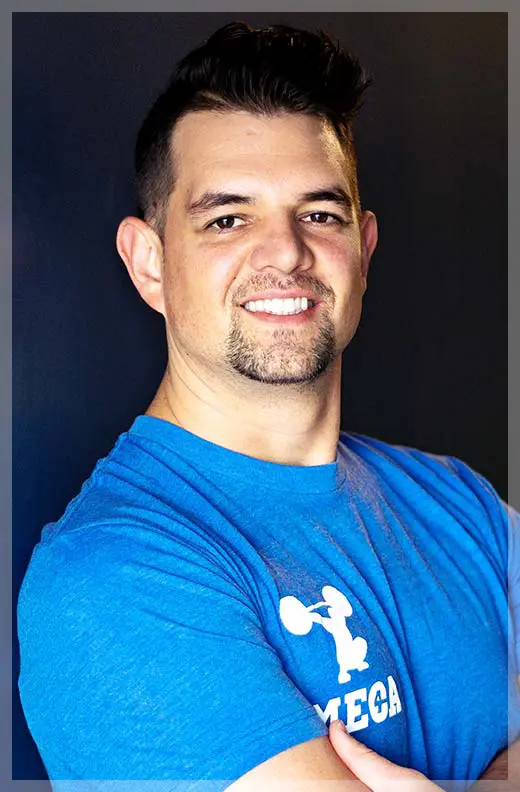 Since MECA started in 2012, the business has done nothing but grow and at an impressive pace. The business eventually grew to a point where it would need an "Operator" and that is where Mike comes in. Mike comes to MECA with 14 years of experience in management with 9 of them being multi-unit management. Mike had previously started as an entry level employee at his former job and climbed the corporate ladder quickly and at a young age. Mike played a lead role in developing processes and procedures for his former company and brings that and many other skills to the MECA team. Mike has a servant's heart and loves to help both clients and trainers with whatever their needs may be.
To elevate the level of sports performance and wellness in the State of Michigan by providing superior personal training and coaching.
Above is our mission statement. While we do feel it perfectly describes our goal, one sentence cannot fully explain what a company is truly striving to achieve. This will provide you with a more in-depth look at why we consider our personal training superior and how we leverage this to elevate results beyond the other options out there in the fitness industry.
Are you ready to take your performance to the next level?
Contact us today to schedule an athletic assessment and tour of our facility.